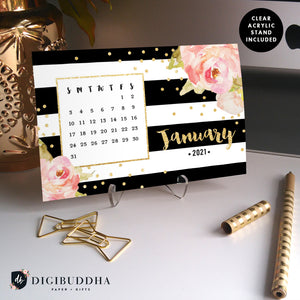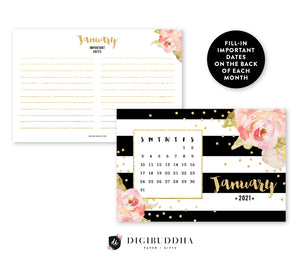 2021 Desk Calendar by Digibuddha | Krissy Black
*This calendar does not include real glitter, but rather a high resolution graphic that will print to look like glitter.
Digibuddha desktop calendars are the perfect way to accessorize your workspace!
Details
· 2021 Digibuddha Desk Calendar 
· 12 cards, one for each month
· Size: 4x6" 
· Paper: our gorgeous 130# Signature Paper
· Clear acrylic stand included
· Fill-in Important Dates on the back of each month. Keep as a perpetual calendar.
· Beautifully packaged and ready for gift giving!
Styles:
· Glam, Floral, Bold, Modern
Shipping
· Ships within 2 business days of purchase.
· Shipped via USPS Priority mail.
· Guaranteed US delivery within 1 to 3 business days, depending on location.
· We ship internationally! Click here for details.