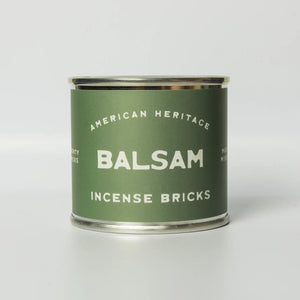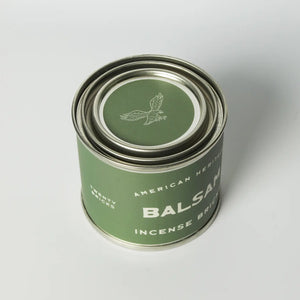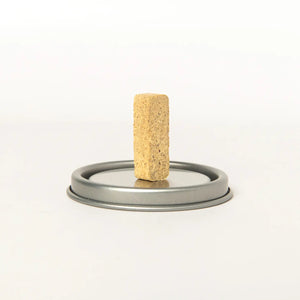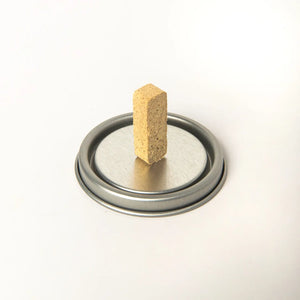 Evergreen trees in nature, firs are tall, symmetrical trees with uniformly spaced branch whorls. Large cones are held erect. Most native firs are high mountain plants which grow best in or near their natural environment. The fir balsam incense is a strong refreshing smell of the high country.

Hold the brick over a flame until the brick burns by itself. After the brick has stopped flaming, gently blow on the ember. Place the brick in the center of lid unlit side down.

Includes 20 bricks

Made in the United States

Discover the perfect rustic gift for the man in your life with American Heritage's premium balsam incense bricks. These high quality incense bricks not only smell divine but also have a beautifully rustic look, making them an ideal boyfriend gift - balsam incense bricks. Balsam scented incense bricks are made with a woodsy, classic balsam scent, offering a soothing balsam incense bricks aroma that is sure to delight any camping enthusiast or lover of the outdoors.
Each pack of incense bricks for camping comes neatly packaged in a compact tin, making it an ideal gift for camping lovers. The long-lasting balsam scent of our incense bricks creates a calming ambiance, perfect for an evening of relaxation or meditation. These incense bricks in tin packaging make an excellent gift for him, dad, brother, boyfriend, camping enthusiast, and anyone who loves the outdoors.
For anyone who loves the outdoors, our incense bricks are a dream come true. Their natural balsam scent incense aroma brings the scent of the forest indoors, making them a perfect gift for outdoorsman - incense bricks. These aromatic incense bricks balsam scent are designed to deliver hours of a soothing balsam scent, making them a delightful rustic scented gift for him and a perfect brother gift - balsam incense bricks.
Looking for the best incense bricks for gifting? Look no further. These wooden scented incense bricks offer a soothing and refreshing fragrance, perfect for any time of the day. Each incense brick is approx. 0.25" x 1" and burns for several hours, offering a long-burning balsam incense experience. Eco-friendly balsam incense bricks are perfect for anyone looking for a high quality scented gifts.
In addition to our wide range of paper goods, stationery, and beautiful giclee and foil pressed artwork, Digibuddha is proud to offer a selection of premium home goods, including these new soothing balsam fragrance items. Try this balsam scented relaxation gift and bring the calming ambiance of a woodland retreat into your home with these outdoor inspired home fragrance incense bricks. The perfect gift for any outdoors enthusiast or anyone seeking a touch of tranquility in their home.
So why wait? Experience the soothing aroma of balsam scented incense bricks for outdoor enthusiasts. And remember, at Digibuddha, we're not just about creating beautiful items. We're about creating memories and moments that last. Bring the calming scent of the forest into your home with these natural balsam indoor freshener, the ideal soothing balsam fragrance items for any home. Whether it's a gift for a loved one or a treat for yourself, our incense bricks are the perfect way to bring a touch of the outdoors inside.