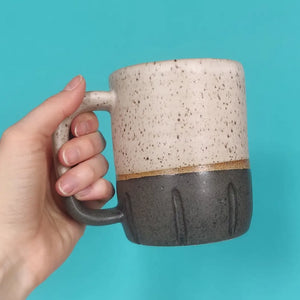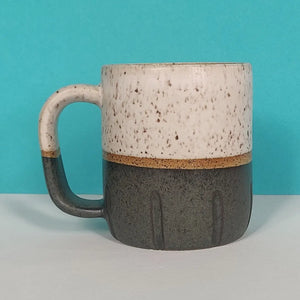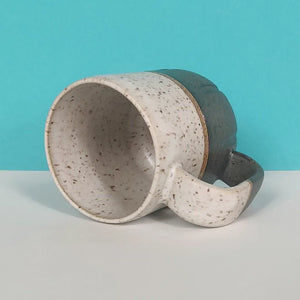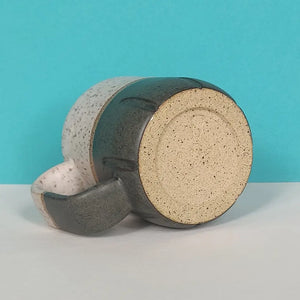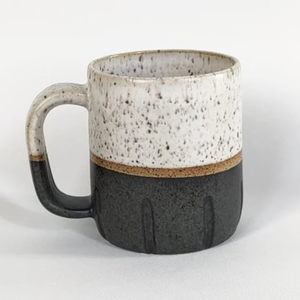 Black and White Cookie Stoneware Mug
Introducing the Colorblock Stoneware Mug, a true work of art handcrafted by skilled artisans. This exquisite Handmade Ceramic Mug is a delightful blend of style and functionality. With its captivating design inspired by the iconic Black White Cookie, this mug from Osso Ceramics is a must-have addition to your collection.
Very large 16oz capacity
microwave & dishwasher safe
Each Philadelphia Stoneware Mug is meticulously crafted with attention to detail, ensuring a unique piece that stands out from the rest. The Colorblock Stoneware Mug features a stunning matte black finish on the bottom half, complemented by a glazed white top and interior that beautifully showcases the speckled clay. The result is a visually striking masterpiece that captures the essence of modern elegance.
Enjoy your favorite beverages in style with this one-of-a-kind, Handmade Stoneware Mug. Its generous 16oz capacity provides ample space for your coffee, tea, or hot cocoa, making every sip a delightful experience. The speckled clay adds a touch of rustic charm, while the unique colorblock design sets it apart from ordinary mugs. Whether you're starting your day or winding down in the evening, this matte black stoneware mug will be your go-to companion.
Elevate your coffee break or delight a loved one with this exceptional Osso Ceramics Mug. Each piece is lovingly crafted, ensuring the highest quality and attention to detail. Discover the beauty and craftsmanship of the Colorblock Stoneware Mug, exclusively brought to you by Digibuddha, your trusted paper & gift brand. Order yours today and indulge in the perfect blend of style and functionality.

The Unique Ceramic Coffee Mug is not just an ordinary mug; it's a work of art that brings joy to your daily coffee ritual. Handcrafted with care, this mug showcases the mastery of Osso Ceramics and their dedication to creating unique pieces that stand out from the crowd. The speckled clay used in its creation adds a touch of organic beauty, making each mug one-of-a-kind. Indulge in the beauty of the Speckled Clay Mug, where earthy tones and natural textures meet impeccable craftsmanship.The speckled clay evokes a sense of grounding and warmth, while the sleek matte black and white finish adds a modern touch to its overall design.

The Artisan-made Stoneware Mug is a testament to the skill and passion of the talented craftsmen who pour their heart and soul into creating each piece. Handmade with love, this mug reflects the artistry and attention to detail that defines Osso Ceramics. Feel the unique textures, appreciate the carefully carved lines, and enjoy the comfort and quality that this mug brings to your coffee moments.

Savor every sip with the 16oz Stoneware Coffee Mug, designed to provide you with ample space for your favorite hot beverages. Whether it's a strong morning coffee or a calming herbal tea, this mug is your faithful companion. With its generous capacity and sturdy construction, it's built to withstand the test of time.

Experience the rich history and artistic spirit of Philadelphia with the Philadelphia Stoneware Mug. Handcrafted in the heart of the city, this mug pays homage to the local artisans and their dedication to their craft. Let this mug be a reminder of the vibrant culture and creative energy that Philadelphia represents. The Black and White Stoneware Mug is a timeless classic that captures the essence of simplicity and elegance. The contrasting colors create a harmonious balance, while the stoneware material ensures durability and heat retention. 

We hope that each sip from your Unique Ceramic Coffee Mug brings you joy, that the Speckled Clay Mug connects you with the beauty of nature, and that the Matte Black White Mug adds a touch of elegance to your coffee routine. Let the Colorblock Clay Mug inspire your creativity, and the New York Inspired Mug transport you to the bustling streets of the city. Experience the artistry of the Artisan-made Stoneware Mug, savor the capacity of the 16oz Stoneware Coffee Mug, and appreciate the heritage of the Philadelphia Ston