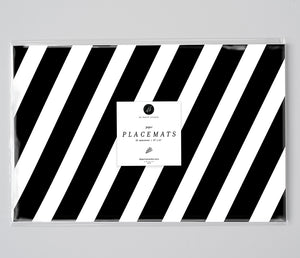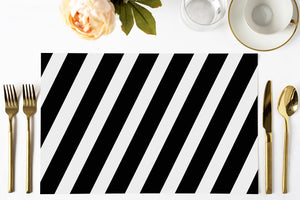 Black and White Striped Paper Placemats
Chic black and white striped paper placemats, the perfect addition to your next festive gathering with the ones you love. Embrace the allure of noir and set an elegant atmosphere for your party with these classic yet trendy placemats.
Designed with attention to detail, these black and white stripe placemats exude sophistication and style. The timeless design adds a touch of refinement to any table setting, making it the perfect choice for both formal occasions and casual get-togethers. Create a captivating ambiance as you gather around and enjoy delightful conversations and delicious food. These placemats not only enhance the visual appeal but also provide a practical solution for keeping your table clean and protected.
Whether it's a birthday celebration, a dinner party, or any special occasion, our black and white stripe paper placemats effortlessly elevate your table decor. The contrasting colors create a striking visual impact, adding an element of excitement and elegance to your event.
These placemats are not only stylish but also convenient. Printed on high-quality paper, they are disposable for easy cleanup after your gathering. Spend more time enjoying the company of your loved ones and less time worrying about post-party chores.
Make a statement and add a touch of sophistication to your next gathering with our black and white disposable paper placemats.
"Good paper quality. Used the placemats against pink tablecloths. They really popped and were the perfect table accent!"  - Megan Diserio
DETAILS: 
25 pack
Professionally press printed on thick paper stock
Large size, approx. 17x11"
Packaged in sturdy resealable poly bag to store extras
View our entire Collection of Placemats