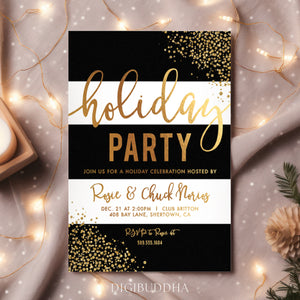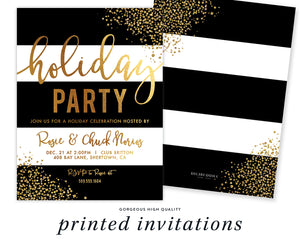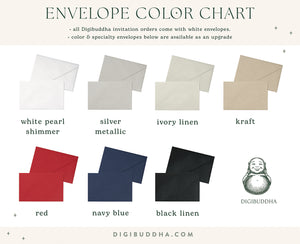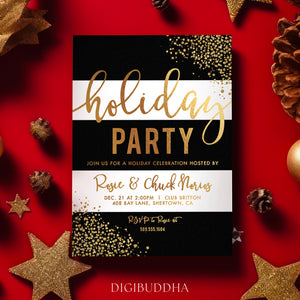 Black Gold White Christmas Party Invitation
Unwrap the magic of the festive season with our chic Black and White Christmas Invitation. Perfect for your annual Christmas party invitation, these stylish cards are a great way to spread the holiday cheer! Featuring elegant black and white stripes, embellished with dazzling faux gold dots, your Christmas cocktails event will be the talk of the town.
Bold Design: Black and white party invite with a modern, elegant touch. Perfect for any holiday festivity!

Customizable: Personalize your Christmas party invite with event details, backer upgrades, and more!
Quality: Full-color, double-sided printing on luxe cardstock. White or colored envelopes included.
Convenience: Easy personalization, professional design layout, and quick delivery via Priority Mail/UPS.
Flexible Quantity: Available from 10 to 250+ with built-in discounts. Ideal for intimate gatherings or grand celebrations!
There's nothing like the joy and fun of throwing a Christmas party. Whether it's for close friends, beloved family, or the whole neighborhood, a party brings people together in celebration. And what sets the tone better than a stunning, personalized invitation? It's not just about informing guests of the where and when, but about igniting excitement, anticipation, and the holiday spirit!
Celebrate the most wonderful time of the year in style with our Christmas party invitation ideas that capture the essence of the holidays. Forget the stress of party planning with our easy customization process; simply provide your details, and our professional designers will handle the rest, crafting your perfect invite. With these invitations, your event will surely be a winter wonderland of elegance and class.

Looking for something to leave a lasting impression even after the party's over? Our attention to detail and commitment to quality ensures that every aspect of your event resonates with joy, love, and the spirit of the holidays.

From the sparkle of faux gold to the classic elegance of black and white stripes, your holiday party invitations will not only be a prelude to the festivities but a cherished keepsake for years to come.