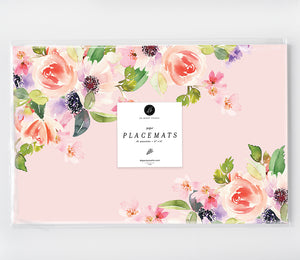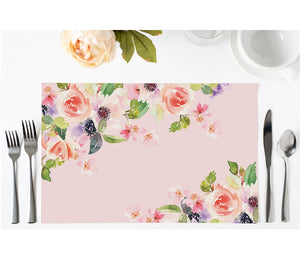 Blush Bouquet Paper Placemats
Celebrate her 30th birthday in style with our blush bouquet paper placemats, the perfect addition to elevate your luncheon and create a memorable dining experience with the ones you love. Designed with a blend of elegance and femininity, these placemats feature a stunning combination of pink, green, and purple floral motifs.

Designed with meticulous attention to detail, our blush bouquet paper placemats add a touch of sophistication to your table decor. The delicate floral design symbolizes growth, beauty, and the joyous celebration of this milestone birthday.

These placemats not only enhance the aesthetics of your event but also protect your table from spills and messes. They provide a practical solution while effortlessly adding an element of elegance to the dining experience.

Whether you're hosting an intimate gathering or a larger birthday celebration for you favorite girlfriend, these placemats set the stage for an unforgettable event. They beautifully blend with various decor styles, creating a harmonious and visually pleasing ambiance.

"These placemats were a striking compliment to a special event luncheon. Great quality, pretty and extremely versatile. I used them with a white table cloth, but can be used with a variety of other colors."  - A.C.
Make her 30th birthday luncheon truly special with our blush bouquet paper placemats by Digibuddha. Let the vibrant colors and floral elegance add an extra touch of joy and beauty to her special day.
DETAILS: 

25 pack
Professionally press printed on thick paper stock
Large size, approx. 17x11"
Packaged in sturdy resealable poly bag to store extras
View our entire Collection of Placemats