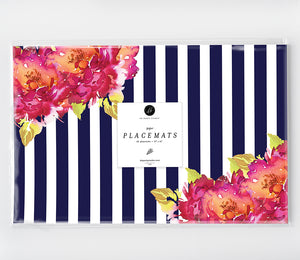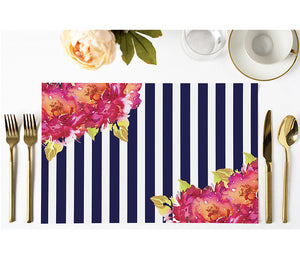 Bright Blooms Paper Placemats
Introducing our vibrant bright blooms paper placemats by Digibuddha, the perfect addition to your bridal shower party. With their striking pink blooms, navy stripes with large flowers, these placemats add a fun and joyful touch to your celebration with the ones you love.

Printed with care, our bright blooms disposable paper placemats bring a burst of color to your table decor. The combination of vibrant hues creates a lively and energetic atmosphere, perfectly reflecting the excitement of the occasion.

Gather with the ones you love to honor the bride-to-be as you enjoy a memorable dining experience. These placemats not only add a festive touch to the event but also provide practicality, protecting your table from spills and stains.

Let the bright and bold design of our bright blooms paper placemats set the stage for a joyful celebration. They add a touch of fun and elegance, creating a memorable backdrop for cherished moments and heartfelt conversations.
"Beautiful and strong. Use over any fabric mat to give a festive look to the table. Love these. These mats turn any occasion into a party. How pretty!"  - I.S.
Celebrate the bride-to-be with these eye-catching placemats that bring together style and functionality to your dining table decor. They are the perfect choice for a bridal shower party filled with laughter, love, and anticipation.
DETAILS: 
25 pack
Professionally press printed on thick paper stock
Large size, approx. 17x11"
Packaged in sturdy resealable poly bag to store extras
View our entire Collection of Placemats