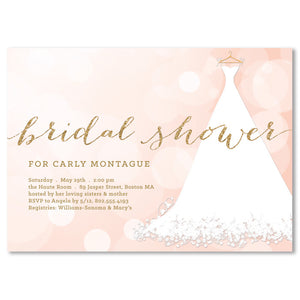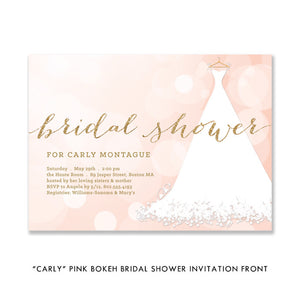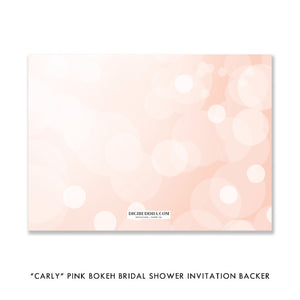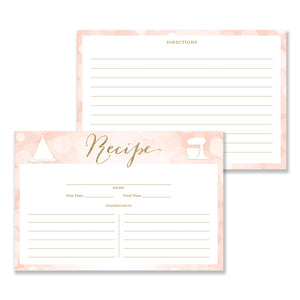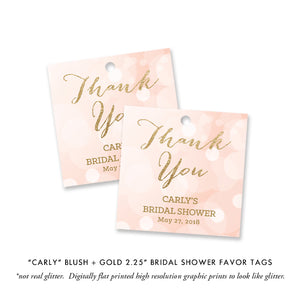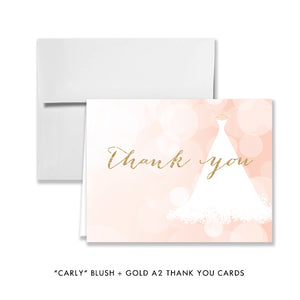 Wedding Dress Bridal Shower Invites Gold and Pink | Carly
Welcome to a celebration that's not just any old party. Set the tone with our bridal shower invites gold and pink that are all about elegance, joy, and a pinch of pizzazz. Inspired by the blush pink bokeh and twinkling lights, these invites take center stage in your bridal shower planning.
Make your bridal shower shimmer with blush pink and gold bridal shower invitations. These invites capture the essence of your event with their pink and gold shower invitations design. Adorned with gold and pink couples shower invitations aesthetics, they perfectly balance romance and fun, setting a relaxed, yet elegant tone for your shower.
Bridal Shower Invites Gold and Pink: They are approximately 5x7", printed in full color on both sides, and are fully customizable with your event details.
Design Features: The soft muted neutral blush pink, pastel pink, wedding dress artwork, white wedding gown, and gold lettering give these invitations a luxurious feel.
Personalization: Type in your event details before adding to cart, and our professional designers will create your custom design.
Quantity Discounts: Invites are available in quantities as low as 10, up to 250+, with discounts as the quantity increases.
Quick Delivery: All US orders ship via USPS Priority Mail for swift delivery.
The gold and pink bridal shower invites sport a backer with a coordinating design that can be upgraded to include additional custom text or a photo of your choice. Set your party apart with wedding dress bridal shower invites that showcase your attention to detail. Complementing the front design, the white envelopes can be upgraded to several color options.
Shower your guests in style with our shower invites with wedding dress. The wedding dress shower invites infuse your bridal shower with a touch of class and the promise of a great time. Soft, lovely, and drenched in the charm of blush bridal shower dress, these invitations are perfect for an intimate gathering or a grand affair. Get ready to say 'I do' to our blush pink and gold bridal shower invites.