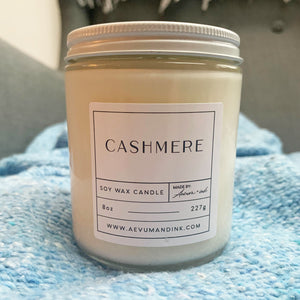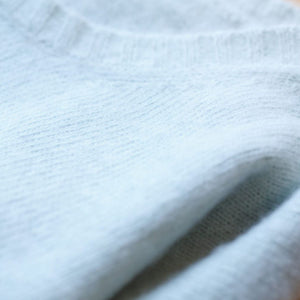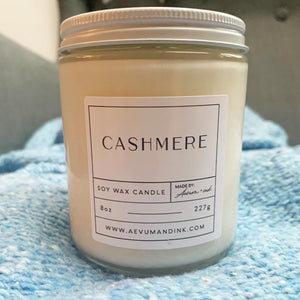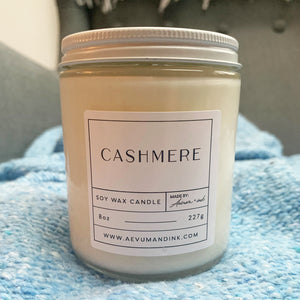 Experience the transformative power of scent with our Cashmere candle with soy wax, a standout in our selection of Aevum + Ink scented candles. This high-quality cashmere candle is a sensory delight, filling your space with an aroma that is both comforting and invigorating..
8oz soy wax candle
reusable glass jar

phthalate free fragrance and essential oils

Cashmere is a really comforting fragrance featuring 

Bergamot, Peach, Ozonics, Jasmin, Muguet, Rose on a bed of Amber, Cedar & Sandalwood with Musk & Vanilla

.
Delve into a world of exquisite aromas, where the refreshing notes of bergamot blend seamlessly with the sweetness of peach, jasmin, muguet, and rose in our soy wax candles with amber, cedar and sandalwood scent. The Aevum + Ink Cashmere candle takes it up a notch, incorporating the clean, fresh scent of Ozonics infused soy candles for an unexpected twist.

Aevum + Ink candles are not mass-produced; each one is thoughtfully handmade, integrating an array of fragrances to captivate your senses, immersing your surroundings in the delicate, romantic notes of these iconic blooms. As the best cashmere candle for gifts, it never fails to impress, serving as a testament to our dedication to quality, craftsmanship, and the art of fragrance.

In the digital age, bringing warmth and tranquility to your home is just a click away. With Digibuddha, you can buy cashmere candle online, instantly transforming your space into a fragrant haven. Each hand-poured cashmere candle is the result of hours of dedicated craftsmanship, promising a consistent, long-lasting fragrance. For those who appreciate the finer things, our luxury cashmere candle is a delightful indulgence, capturing the essence of elegance in its captivating scent profile.

Breathe in the soothing aroma of our cashmere candle with natural scents, an intoxicating blend of nature's most comforting fragrances. This comforting cashmere candle envelopes your surroundings in an atmosphere of peace and relaxation, ideal for unwinding after a busy day. 

As purveyors of luxury scented soy candles, we at Digibuddha understand the transformative power of a well-crafted scent, and we strive to bring this transformation into every home.

Perfect as high-end gift candles, our products add a touch of sophistication to any occasion, serving as a token of appreciation that continues to give long after the event. They are more than just candles; they're aromatherapy candles for relaxation, helping soothe the mind and uplift the spirit. At Digibuddha, we invite you to discover the joy of fine fragrances, and see how the simple act of lighting a candle can elevate your everyday.