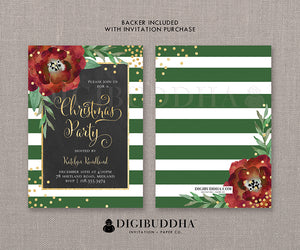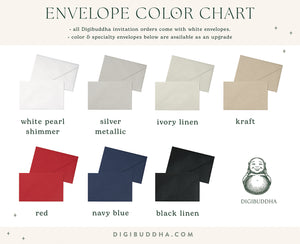 Chalkboard Green Stripes Christmas Party Invitations
Introduce a touch of glamour to your festive celebrations with our gold and green stripes Christmas party invitations. With a vibrant accent and a unique chalkboard background, these invites are perfect for any holiday get-together, be it with family, friends, or coworkers!
Fully Personalized: Tailor your invites with event specifics, host details, and RSVP info.
Double-Sided Printing: Full-color, high-quality prints on both sides.
Customizable Backer: Upgrade to include custom text or a personal photo.
Color Envelope Options: White envelopes standard, with color upgrades available.
Flexible Quantities: Order as few as 10 or as many as 250+ with built-in discounts.
Mailing out these dazzling invites is the perfect way to kickstart your Christmas party planning. There's nothing quite like the anticipation of an invite, hinting at the merriment and Christmas cocktails to come. Whether it's an intimate gathering or a grand festive bash, your invite is the first glimpse into the festivities you've planned.
Our holiday party invitations don't just announce your event; they set the stage for a memorable celebration. Imagine the joy your Christmas party invite will bring, not just as a mere formality, but as a cherished keepsake from your annual Christmas celebration. With our easy personalization, quick delivery and a design that's as merry as it is glam, these invitations are sure to spread the holiday cheer!

So, whether you're throwing a big bash with Christmas party favors or planning an elegant evening of Christmas cocktails, our holiday party invite is the first step to a memorable night. Choose our xmas invitation for a hassle-free, joy-filled start to your festive celebrations. After all, it's the season for giving, celebrating, and, most importantly, being surrounded by the ones you love!