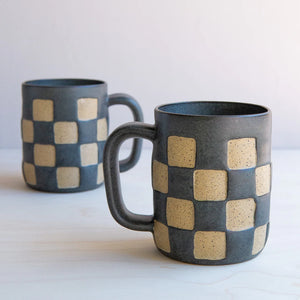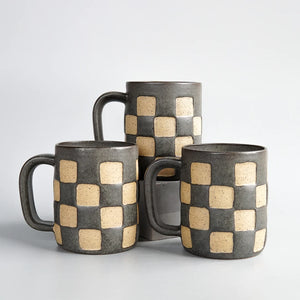 Checkerboard Stoneware Mug
Start your day with the unparalleled quality of our Checkerboard Stoneware Mug. This isn't just a beverage holder, it's a beautiful Osso Ceramics stoneware mug designed in Philadelphia, home to some of the finest quality pottery. Crafted with precision, the 16 oz stoneware mug holds ample quantity of your favorite warm drink to get your day started.
Very large 16oz capacity
microwave & dishwasher safe
Adorned with an intricate Osso Ceramics checkerboard pattern, this matte black stoneware mug is far from ordinary. The design is not painted but imprinted on a speckled brown clay stoneware mug, offering a unique textured experience to your fingertips every time you pick it up. Each handmade clay mug with checkers is a testament to the exceptional design standards of Osso Ceramics.
But this 16 oz matte black ceramic mug isn't just about the aesthetic appeal. It is designed with everyday practicality in mind as it is a dishwasher safe ceramic coffee mug. So, you can enjoy your beverage and leave the cleaning to the dishwasher. So, enjoy every sip from this meticulously crafted mug that seamlessly blends style, quality, and convenience.

Further accentuating its charm, the Stoneware mug with checker pattern is not merely printed or painted on. Every square is meticulously hand-carved, making each wheel-thrown stoneware mug a unique piece of art. This highlights the artisanal nature of our products and sets us apart. Even more, each mug is microwave safe stoneware mug, offering convenience and functionality for those days when your coffee needs a quick warm-up.
Crafted with pride in the city of brotherly love, each Philadelphia made stoneware mug pays homage to our origins. The vibrant art scene of the city, rich in history and culture, is reflected in every piece of our collection. This particular mug, with its checkerboard pattern, makes a perfect luxury stoneware mug gift for loved ones who appreciate the blend of practicality and design.
Stepping into the world of checkerboard patterned ceramics is like stepping into a unique combination of artistic endeavor and craftsmanship. The handmade checkerboard pottery, like this mug, goes beyond the ordinary. Each piece of the Osso Ceramics checkerboard design exhibits the craftsmanship, time, and dedication involved in the creation of each checker pattern clay mug.
What sets this mug apart in your morning routine is its distinctive design. It's not just a simple coffee holder but a checkerboard pattern coffee mug. Every sip feels special, every touch is an experience of the unique texture, and each look at it is an appreciation of art in everyday life. So, embrace this blend of art and functionality and make your coffee times memorable.