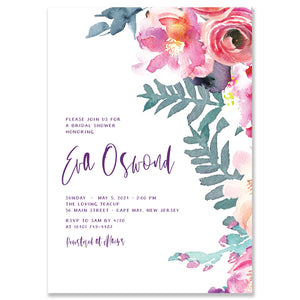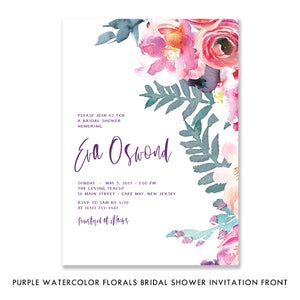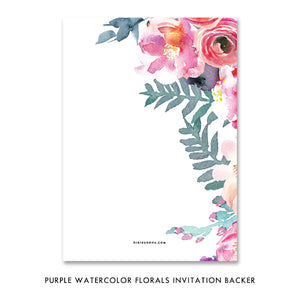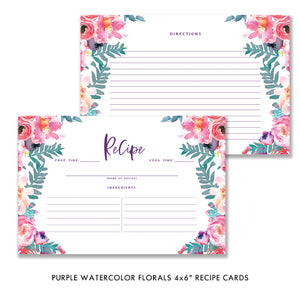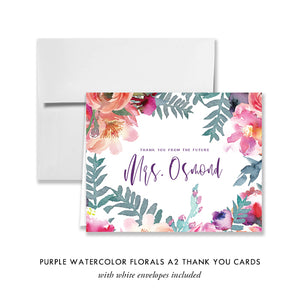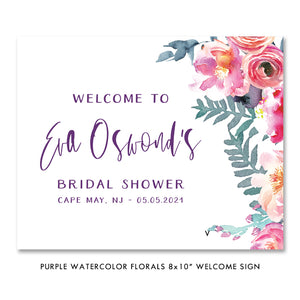 Chic Floral Watercolor Bridal Shower Invitations
Invigorate your upcoming bridal shower with our chic floral watercolor bridal shower invitations! These invitations are the perfect embodiment of boho chic bridal shower invitations and watercolor bridal shower invitations combined. A beautiful blend of pink and purple invitations, this design exudes a modern chic flair that's a feast for the eyes.
💍 Full-Color Printing: Vibrant, full-color printing brings our watercolor floral design to life.
💍 Personalized: Every detail can be customized, from event details to your photo on the backer.
💍 Bulk Discounts: The more you order, the more you save!
💍 Quick Delivery: All US orders ship Priority Mail or UPS for speedy delivery.
💍 Envelope Options: Choose from white or color upgrade options to match your style.

Make your bridal shower stand out with these watercolor elements that are perfect for a garden party invitation or a tea party bridal shower invitation. Experience the romance and charm of a summer bridal shower with these gorgeous floral bridal shower invites.

Our designers are seasoned experts in creating customized designs for our customers. They will take your event details and create a layout that's as unique as your special day. These invitations are perfect for a bridal shower brunch or even a classy boho bridal shower. They reflect the essence of watercolor flower invitation design, mirroring the beauty of pink bridal shower invitations.

At Digibuddha, we believe in the power of invitations. They set the tone for your event, and our chic floral watercolor bridal shower invitations do just that. Whether you're hosting a relaxed brunch, a vibrant garden party, or an elegant tea party, these invitations will give your guests a sneak peek into the memorable day ahead.