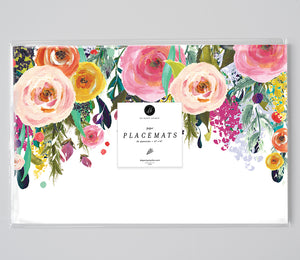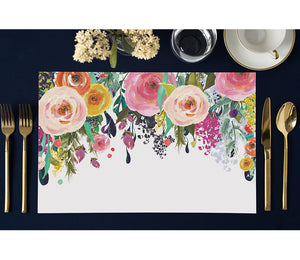 Color Garden Paper Placemats
Celebrate Mom's 55th birthday extravaganza with our vibrant and lively colorful garden paper placemats. These disposable placemats are the perfect addition to immerse yourself in the beauty of colorful flowers as you create a blooming garden atmosphere for this special milestone - the golden year, surrounded by the ones you love.
Designed with meticulous attention to detail, our colorful garden paper placemats feature an array of vivid flowers that will instantly brighten up your table decor. The vibrant colors and intricate designs evoke a sense of joy and celebration, perfectly capturing the spirit of this milestone event.
Celebrate your mom's 55th birthday in style with these eye-catching placemats. As you gather around the table, let the lively colors and blooming flowers set the mood for a memorable celebration. It's a moment to cherish and an opportunity to show your love and appreciation.
Printed on high-quality paper, our colorful garden pPaper place mats not only add a touch of visual appeal but also provide a practical solution, catching spills and crumbs, making cleanup effortless, so you can focus on enjoying every moment of the celebration.
Let the vibrant colors and lively garden atmosphere of our the paper placemats create a truly enchanting ambiance for the 55th birthday party for your mom. Embrace the golden year with love, laughter, and cherished memories that will last a lifetime.
Infuse your dining table decor with the joyful spirit of colorful flowers and make your mom's 55th birthday a truly unforgettable experience. 
Happy 55th Birthday Mom!
"Perfectly beautiful and bright colored! I used for a spring bridal shower and they were perfect."  - Deborah L T Lusk
DETAILS: 
25 pack
Professionally press printed on thick paper stock
Large size, approx. 17x11"
Packaged in sturdy resealable poly bag to store extras
View our entire Collection of Placemats