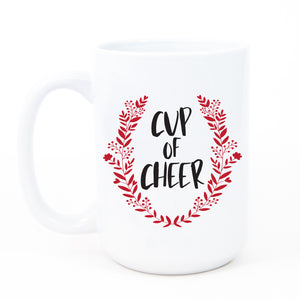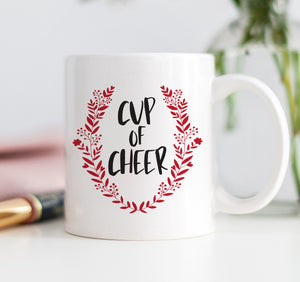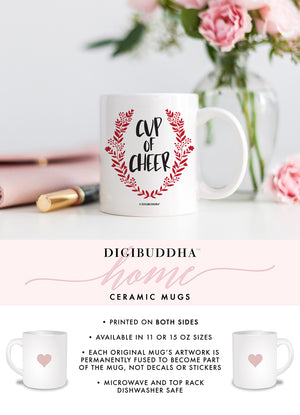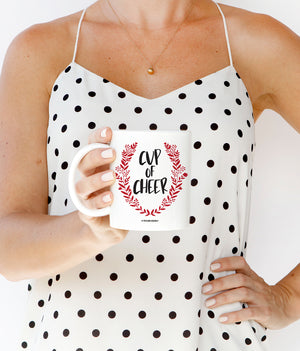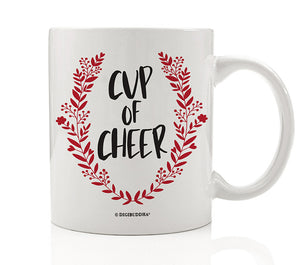 Pour yourself a generous serving of festive spirit with our Cup of Cheer Coffee Mug. Perfect for those frosty mornings or cozy nights by the fire, this mug embodies the warmth and joy of the holiday season. Whether you're indulging in your favorite coffee or sipping on some Christmas-themed hot cocoa, this holiday mug brings a dash of cheer to your day.

• Fine White Ceramic: Our mugs are crafted using fine white ceramic, offering a flawless glossy glaze finish.
• Custom-Made: Each original custom-made mug is permanently fused with the art becoming a part of the mug itself. Say no to decals or stickers!
• Durable & Safe: Safe for use in the microwave and top rack of the dishwasher, this mug is as practical as it is beautiful.
• Two Sizes Available: Choose from either the 11 oz or the larger 15 oz version, whichever best suits your beverage needs.
• Securely Packaged: Your new favorite mug is securely packaged and shipped to protect against damage during transit.
Festive, functional, and fun, this cup of cheer coffee mug is more than just a drinking vessel; it's a celebration of the holiday spirit. The bold, black text stands out against the ceramic backdrop, reading "Cup of Cheer" and reminding you to emerse yourself in the joy of the season. With a Christmas emblem wreathed in red, this mug captures the essence of a truly merry Christmas vacation.
For those who take their holiday decorating seriously, this Christmas mug offers a delightful addition to any festive home. Incorporating this mug would make a perfect addition to a Christmas gift set. It's an ideal holiday gift mug for loved ones near and far.
Finally, it's not just the Christmas coffee mug itself that's full of cheer, but also the joy it brings to your daily routines. Whether you're a coffee connoisseur or a tea devotee, this mug will make your warm beverages all the more comforting. There's truly nothing like wrapping your hands around a cup of Christmas cheer on a cold winter's morning.