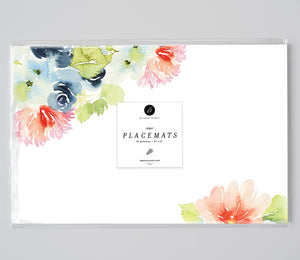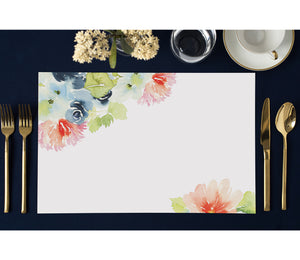 Delicate Florals Paper Placemats
Our exquisite delicate floral paper placemats are the perfect addition to celebrate a wedding shower in style. Set the stage for a stunning garden party as you gather with the ones you love to honor the bride-to-be and create cherished memories.


Designed with elegance and sophistication in mind, our delicate floral paper placemats feature a beautiful watercolor floral design. The delicate blooms and soft pastel hues bring a touch of natural beauty to your table, enhancing the ambiance of your bridal shower or wedding shower.

Created by Digibuddha, renowned for their exceptional quality, these elegant watercolor placemats with intricate floral prints and vibrant colors make them a standout choice for adding a touch of sophistication to any occasion.

Celebrate the joyous occasion of a wedding shower with these spring paper placemats. They effortlessly transform your space into a whimsical garden party, capturing the essence of love and new beginnings.

Practical and stylish, our spring garden party paper placemats not only enhance the visual appeal but also protect your table from spills and messes. They are the perfect complement to your celebration, allowing you to focus on creating precious moments with the bride-to-be and your loved ones.
"Beautiful watercolor print, not flimsy. Beautiful, soft colors. Thick paper, not flimsy. Used these for a springtime luncheon. So many compliments."  - M
Make a statement with our delicate floral paper placemats, the perfect choice for your spring garden party. Let the beauty of these placemats by Digibuddha elevate your event and create an unforgettable experience for everyone involved.
DETAILS: 

25 pack
Professionally press printed on thick paper stock
Large size, approx. 17x11"
Packaged in sturdy resealable poly bag to store extras
View our entire Collection of Placemats