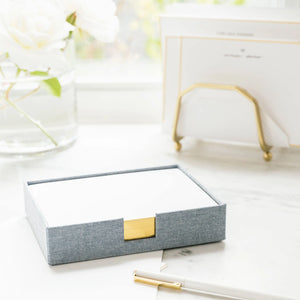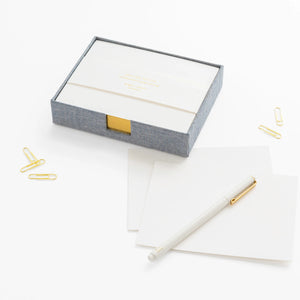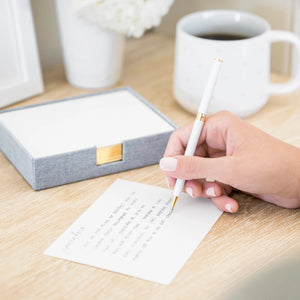 Desk Jotter Notecards, Chambray
Add a touch of elegance to your workspace with the Sugar Paper Desk Jotter. This high-end product isn't your average note holder. Designed with the utmost attention to detail, this chambray desk jotter serves as a chic, functional addition to any desk setup. Nestled in a chambray fabric holder, this jotter is perfect for professionals, creatives, and stationery enthusiasts who appreciate a blend of style and utility in their daily essentials.
Fabric Bound Holder
Crisp White Paper
75 Blank Note Cards
4.25 x 5.5" Cards
For fans of Sugar Paper stationery, the Desk Jotter embodies the brand's dedication to quality and aesthetics. This luxury desk jotter holds a set of carefully curated note cards, each edge adorned with exquisite gold gilding. The white text paper products are as beautiful to look at as they are to touch, promising a delightful writing experience every time. From jotting down quick thoughts to penning heartfelt messages, this elegant desk jotter set makes every note an occasion.

Your desk is a reflection of your personal style and a place where ideas come to life. With this in mind, we've brought together elegant stationery products that merge design and function effortlessly. Our chambray desk jotter elevates the everyday task of note-taking into a luxurious experience. The gold gilded stationery that comes with it adds a touch of sparkle to your daily tasks, making even mundane tasks feel special. Treat yourself to the Sugar Paper Desk Jotter, or gift it to a stationery lover to enhance their collection. Enjoy a balance of sophistication and functionality with this timeless piece.
When it comes to professional note card sets, the Sugar Paper Desk Jotter stands out in its category. Its high quality note card set is perfect for quick brainstorming sessions, to-dos, or penning down inspiration as it strikes. This desk jotter for office use demonstrates how stationery can be both practical and sophisticated. Featuring note cards with gilded edges, it turns every note into a piece of art, offering a creative boost to your workspace.

Wrapped in a fabric bound desk jotter, each note card brings a touch of luxury to your daily tasks. The desk jotter with gilded edges adds an element of glam to an otherwise practical item, making your desk a place where creativity meets style. It's not just a professional note card set; it's a design statement, proving that everyday essentials can be far from ordinary.

Expanding your collection of luxury desk accessories has never been so exciting. The Sugar Paper Desk Jotter belongs to the family of designer desk supplies that add a touch of refinement to any workspace. By choosing high-end office supplies, you are investing in quality, aesthetics, and a boost to your productivity. After all, when your workspace is pleasing to the eye, your work feels less like a chore and more like a pleasure.

Finally, it's not just about having professional stationery; it's about having chic desk essentials that speak to your style. The Sugar Paper Desk Jotter is the epitome of professionalism, function, and elegance combined. So why not add this luxury note card set to your collection? After all, a stylish workspace is an inspired workspace. Embrace the intersection of productivity and elegance with this must-have desk jotter.