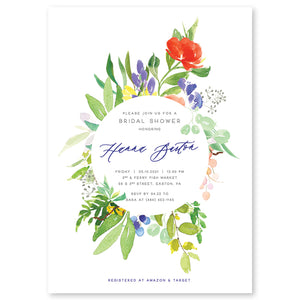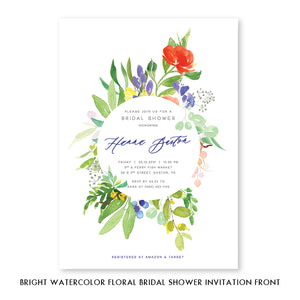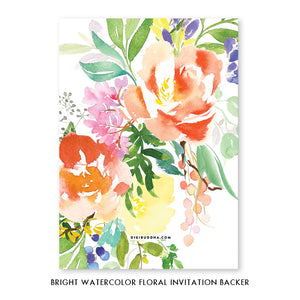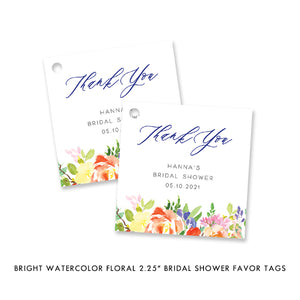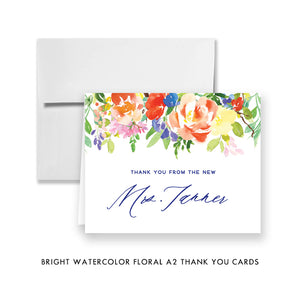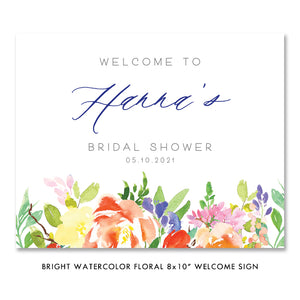 Elegant Watercolor Floral Bridal Shower Invitations
Introducing our elegant watercolor floral bridal shower invitations. These watercolor flower invitation designs include stunning hues of purple and orange. These bridal shower invites are nothing short of spectacular. Ideal for a summer bridal shower or even a garden party invitation, they're designed to set the tone for a memorable occasion.
💍 Full Color Both Sides: Say goodbye to plain, boring backsides! Our invitations are printed in full color on both sides for an added wow factor.
💍 Fully Personalizable: Tailor the details to suit your event. From the guest of honor's name to the venue and RSVP info, our invites are made to match your needs.
💍 Coordinating Backer Design: Every invitation comes with a beautifully coordinating backer design that can be upgraded to include more custom text or a photo.
💍 Various Quantity Options: Whether you're having an intimate gathering or a large-scale event, we've got you covered. Our invites are available in quantities as low as 10 to as high as 250+.
💍 Easy Personalization: Our online interface makes customization a breeze. Type your details, add to cart, and we'll take care of the rest.
When it comes to bridal festivities, the elegant watercolor floral bridal shower invitations offer a tasteful touch of tradition combined with a modern splash of color. Invitations are often the first glimpse guests have of the event, so they should be as special as the occasion. Our watercolor flower invitation captures the charm and elegance of your upcoming celebration in every detail.

Perhaps you're considering bridal shower invites purple and orange to match your event's color scheme? The gorgeous shades in our floral design blend beautifully to create a vibrant yet tasteful display. These floral bridal shower invites aren't just paper — they're a promise of a memorable celebration brimming with love, laughter, and beautiful memories.
These invitations aren't just limited to bridal showers. Their versatile design makes them suitable for a range of events. Planning a sophisticated Sunday bridal shower brunch? Or perhaps you're hosting a garden party under the summer sun? Our garden party invitation design will set the tone for your event perfectly. Their vibrant floral print and delicate watercolors make them a fitting choice for any garden or nature-themed event.
For those with a love for the whimsical and the bohemian, these invitations also carry a hint of boho bridal shower invitations charm. The soft watercolors echo the free spirit of boho aesthetics, while the vibrant floral design adds a dose of earthy appeal. They can even be used for tea party bridal shower invitations, adding a creative twist to your high tea setting.
So, whether you're welcoming the summer bridal shower season or planning a beautiful brunch with the bride, our elegant watercolor floral bridal shower invitations are the perfect way to announce your event. Customize yours today and let the celebrations begin!