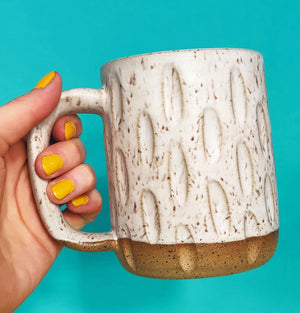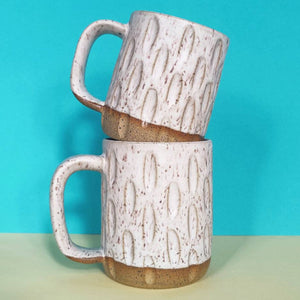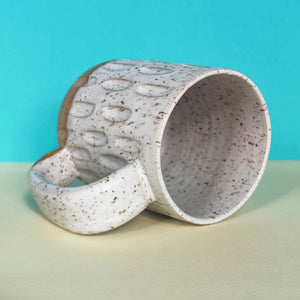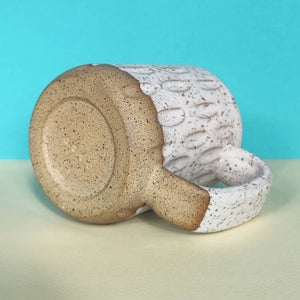 Fat Honeycomb White Stoneware Mug
Embrace your morning rituals with our handcrafted masterpiece, the Fat Honeycomb White Stoneware Mug by Osso Ceramics. This is no ordinary mug, it's a meticulously hand thrown ceramics piece that encapsulates the dedication and artistry of Philadelphia's finest artisans. This handmade stoneware mug is created with a honeycomb design that is both visually captivating and tactilely pleasing. Each mug is individually thrown on the wheel, ensuring no two are exactly alike, embodying the charm and uniqueness of handmade goods.

Very large 16oz capacity
microwave & dishwasher safe
The Fat Honeycomb White Stoneware Mug isn't just about aesthetics, it's about functionality and durability too. This glazed stoneware mug can withstand the rigors of daily use. Whether you prefer your drinks hot or cold, this white stoneware mug holds 16 ounces of your favorite beverage. Its glossy finish is not just attractive, it also provides a comfortable grip, making your morning coffee, afternoon tea, or bedtime hot cocoa even more enjoyable. Its sturdy construction ensures it is microwave, dishwasher, and oven safe, making it a practical addition to any kitchen.
But the true star of this piece is the honeycomb pattern. The ceramic mug with honeycomb design is intricately hand-carved, creating a unique texture that you can feel with every sip. This honeycomb pattern stoneware mug is a testament to the craftsmanship of Osso Ceramics. It takes the ordinary coffee mug and turns it into an extraordinary piece of art. With every sip from your honeycomb pattern coffee mug, you're not just enjoying your beverage, you're experiencing the dedication and skill of the artisan who created it. This Osso ceramics stoneware mug is not just a drinking vessel, but a statement piece that enhances every sip.
Your daily brew deserves the best, and our 16oz stoneware mug is the perfect partner for your morning coffee or evening tea. No more compromising on style or substance. The Fat Honeycomb White Stoneware Mug is the embodiment of functional art, meticulously designed to hold the right amount of your beloved beverage. Every detail of this stoneware with honeycomb detail is thoughtfully designed, creating a beautiful piece of artisan honeycomb pottery that elevates your drinkware collection.
Crafted to be as hardworking as you are, this durable stoneware mug is built to withstand the hustle and bustle of everyday life. Whether you're a microwave maven or an oven aficionado, you'll appreciate the versatility of this microwave safe stoneware mug that's also an oven safe stoneware mug. The handmade honeycomb stoneware is not just a testament to the artisan's skill, it's also a proof of the mug's durability and resilience.
Our unique honeycomb ceramics are more than just mugs, they're an experience. The Fat Honeycomb White Stoneware Mug is not just a piece of honeycomb pattern drinkware, it's a celebration of the art of pottery. Each handcrafted honeycomb ceramic mug is a work of love, bringing joy to your daily rituals. When you sip from our mug, you're not just drinking your beverage, you're savoring the time, effort, and talent that went into its creation.
Thinking of the perfect present for a loved one? Our mugs make excellent gifts with honeycomb design. These handmade pottery gifts are more than just presents, they're pieces of art that can be used and appreciated every day. Whether it's for a coffee connoisseur, a tea lover, or a mug collector, the Fat Honeycomb White Stoneware Mug is a gift that will be treasured and enjoyed for years to come.