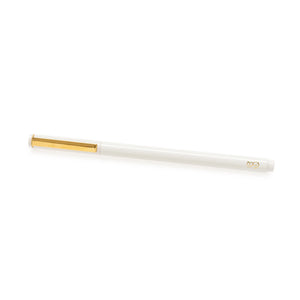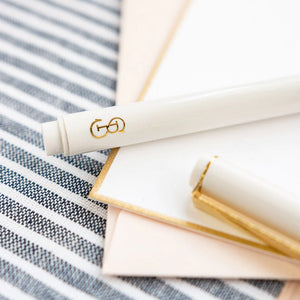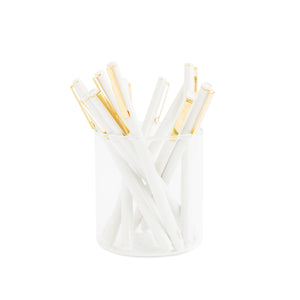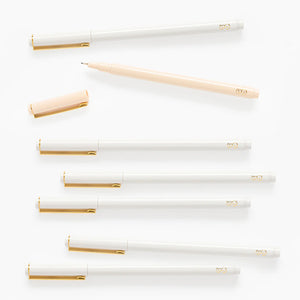 Add a touch of elegance to your writing with the Crisp White felt pen by Sugar Paper. This high quality felt pen combines a sleek design and comfort for an exceptional writing experience. With its smooth barrel and stunning white finish, it exudes sophistication, making every stroke feel like a luxury. The black ink flows smoothly, ensuring all your thoughts and ideas come out crisply and clearly, whether you're jotting down your grocery list or penning your next big idea.
White plastic finish
Gold Sugar Paper logo and clip
Black ink, Felt tip
The Sugar Paper Felt pen with black ink is not just about the looks, it's also designed to bring you the finest writing performance. This is why it is hailed as the best felt tip pen for writing. The inky black finish enhances the look of your handwriting, making every word you write down a work of art. The gold detail pen isn't just a pen, it's a statement. A beautiful companion for journals, notebooks, and diaries, it comes with a sturdy gold clip that adds a dash of glamour and practicality, keeping your pen secure.

In need of a thoughtful present for a stationery lover? Look no further! Our Crisp White felt pen makes a wonderful addition to any stationery collection and a standout in any pen holder. Handwriting pen with black ink, it's a sophisticated tool that shows thought and consideration, making it one of our top stationery gift ideas. With Sugar Paper pens, you're not just gifting a pen, you're gifting a luxurious writing experience that's unmatched. So, why wait? Elevate your writing with our Crisp White felt pen today.
The Crisp White felt pen isn't just any pen, it's a stylish statement, thanks to the dazzling white and gold pen design. Sugar Paper is all about attention to detail, and with this pen, every detail shines. The gold clip pen adds a dash of glamour to the crisp white body, and the gold Sugar Paper logo pen is a testament to quality and sophistication. It's not just about creating beautiful words, but also about the joy of writing with a pen that feels as good as it looks.

When it comes to finding the best pen for handwriting, you won't have to look further. This premium writing pen offers a smooth, uninterrupted flow of ink that lets your hand glide across the paper. The felt tip delicately touches the paper, creating the perfect balance between ink and tip, making your handwriting look its best. Whether you're sketching, journaling, or writing a heartfelt note, these elegant handwriting pens enhance your writing and make every word matter.

Sugar Paper is synonymous with design and quality, and this designer stationery pen exemplifies just that. It's the perfect blend of functionality and aesthetics, an artistic writing pen that is as much about the process of writing as it is about the finished product. Its chic design makes it one of the most stylish pens for journaling, ensuring every entry you make in your journal feels special and important.

These Sugar Paper felt pens are designed for those who love the written word and enjoy the process of writing. They're for those who appreciate quality, design, and the simple joy of holding a beautifully designed pen in their hands. Indulge in the luxury of the Crisp White felt pen by Sugar Paper and elevate your writing experience. After all, great ideas deserve great pens!