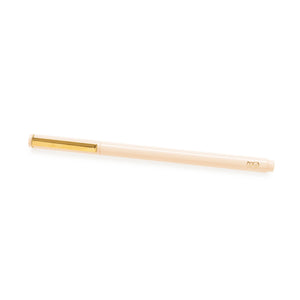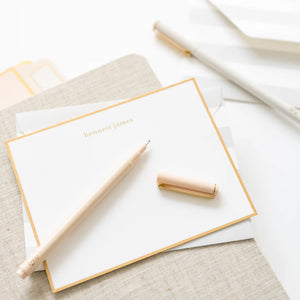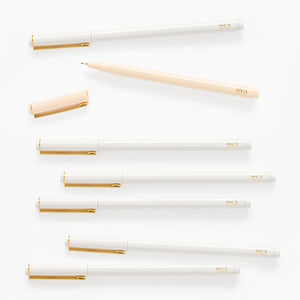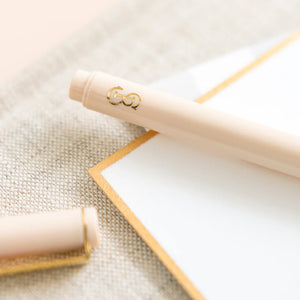 Pale Pink plastic finish
Gold Sugar Paper logo and clip
Black ink, Felt tip
The Sugar Paper Pale Pink pen is a high quality felt tip pen created for those who appreciate the finest in life. This is a pen that promises an inky, smooth flow of thoughts, ideas, and emotions onto paper, making it an ideal felt pen for journaling. With its finely crafted felt tip, each stroke of the pen is a delight. A smooth writing felt pen like this is about more than just the act of writing; it's about capturing the essence of your thoughts with grace and precision.

The Sugar Paper Pale Pink felt pen boasts a high quality black ink pen that promises a smooth and uninterrupted flow of ideas onto paper. It comes adorned with a tastefully crafted gold clip, making it a design standout in the realm of pens. As functional as it is stunning, this designer pen with gold clip allows you to secure your pen to notebooks or shirt pockets, ensuring your pen is always within reach for that unexpected burst of inspiration.

But the allure of this felt tip pen with black ink doesn't end there. The beauty of this pen makes it an exceptional item within the realm of pink and gold stationery. If you're on the hunt for stationery gift ideas for the discerning writer in your life, or you're just looking to add a dash of luxury to your own desk, this pen is it. Remember, luxury writing instruments like our Sugar Paper felt pen are not just about functionality, they're an embodiment of personal style and the delight of the written word.
Proudly wearing a stylish felt tip pen like this in your stationery collection is about making a statement. It tells the world about your commitment to quality, your eye for design, and your passion for self-expression. Whether you're crafting a heartfelt letter or taking notes at an important meeting, this black ink felt pen ensures each word you write is penned with elegance.

In the realm of luxury office supplies, Sugar Paper stands out for its devotion to creating pieces that are both visually stunning and superbly functional. This pen is a testament to that dedication. It's a piece of stationery for handwriting enthusiasts, a tool that makes every word, every letter, a joy to write. Whether it's used at your home office or corporate desk, this designer stationery for office use promises to elevate your everyday writing experience.

With its signature sugar paper stationery style, this felt tip pen encapsulates the luxury and charm you'd expect from a premium pen for journaling. So, whether you're jotting down your deepest thoughts or simply making a shopping list, this pen turns the mundane into the magnificent. After all, every word you write is a piece of you, and it deserves to be penned with a tool that reflects your love for quality and elegance.