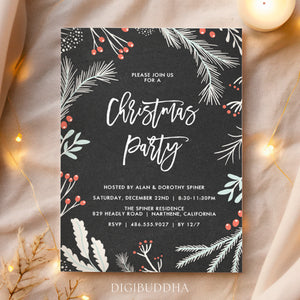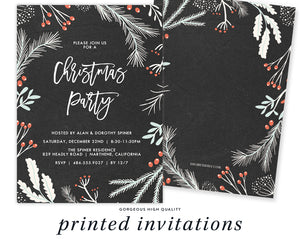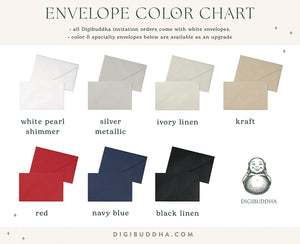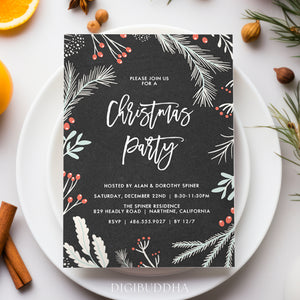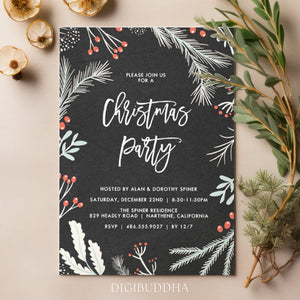 Festive Chalkboard Christmas Party Invitations
Invite merriment and jingle some joy into the hearts of your loved ones with our festive chalkboard Christmas party invitations. With a touch of elegance and a dash of whimsy, these invites are your first step in hosting an unforgettable holiday gathering. Whether you're planning a feast for the family or a cozy Christmas cocktails evening, these invites set the stage for a memorable night.
Charming Chalkboard Design: Features an engaging chalkboard backdrop with vibrant holly and red berries - perfect for your modern Christmas theme.
High-Quality Print: Full-color printing on both sides, ensuring no detail is left behind.
Fully Customizable: Personalize with your event details, from date/time to RSVP information, all laid out by our professional designers.
Flexible Quantities: Available in sets from 10 to 250+ with built-in discounts as quantities increase.
Easy Personalization: Just type your details in the text box before adding to cart - we handle the rest!
The joy of mailing invitations extends beyond merely sharing event details; it's about sending a piece of your heart, signaling the official start of your Christmas planning. The tactile nature of our chalkboard invitation touches something deep within, sparking anticipation for the festivities ahead.
Dress your event in sophistication with our festive chalkboard Christmas party invitations. From the modern, elegant aesthetics to the personal touch in every line, your invite is not just a call to a party; it's a warm, welcoming embrace during the holiday season. Revel in the convenience of our Christmas card invitation, knowing each card is a placeholder for memories yet to unfold.
As you prepare for your annual Christmas party, let these invitations carry your excitement and spirit. They're not just about the venue or the time; they're about the promise of laughter, the prospect of connection, and the anticipation of togetherness encapsulated in your Christmas party invite.