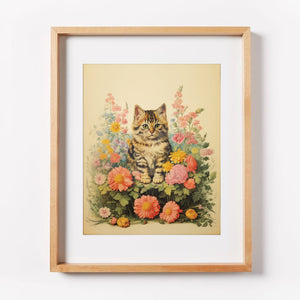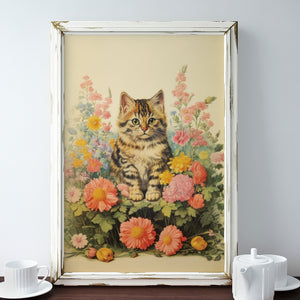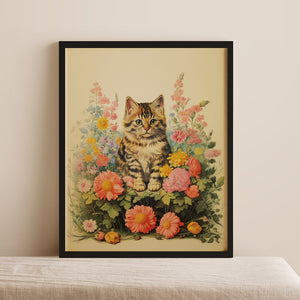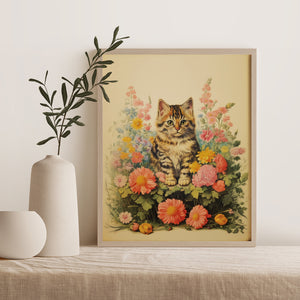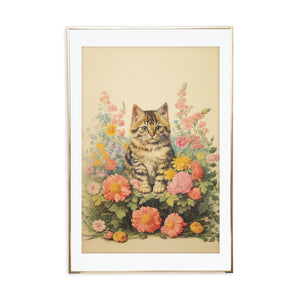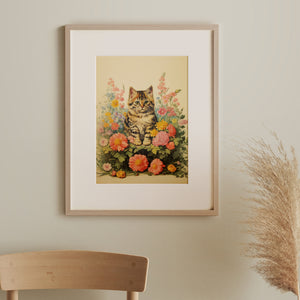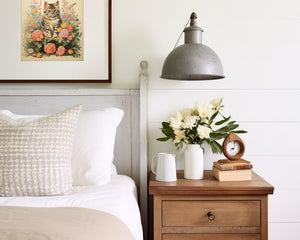 Flower Patch Vintage Cat Art Print
Introducing our exquisite Flower Patch Vintage Cat art print, a masterful creation that captures the essence of an antique kitten lithograph. This piece will elevate your space with a touch of timeless elegance, perfect for cat lovers and art enthusiasts alike.

Available in 8x10"' or 11x17" size
Printed in full color on archival matte art paper
Shipped in heavy duty sturdy mailer for safe shipping
Print only (frame not included)
At Digibuddha, we take pride in presenting this work that blends the delicate beauty of a vintage cat flower artwork with the sophistication of a vintage cat garden print.
Our vintage cat floral design is more than just an art print; it's a nostalgic journey to a serene garden blooming with beauty. Our garden flower art reproduction is skillfully crafted with attention to detail, bringing the botanical cat artwork to life.
Whether it's the floral botanical art print that catches your eye or the intricate lines of the vintage cat botanical lithograph reproduction, this piece is sure to enchant you.
Our floral cat print vintage brings an element of charm to any room, making it a unique and thoughtful gift for any occasion. With its fine details and rich colors, our vintage cat art print is a statement piece that embodies the romance and elegance of bygone eras. 
Delve into a world where past and present converge with our vintage cat antique reproductions. The vintage cat lithograph print is meticulously recreated to preserve the character and charm of the original, offering an artful blend of modern craftsmanship and old-world elegance. You'll fall in love with the vintage cat garden illustration that transports you to a tranquil haven filled with vintage cat and flowers.
With Digibuddha, you're not just buying a piece of art; you're bringing home a story. The vintage cat decor artwork tells a tale of antique garden artwork, where nature and nostalgia unite.
From the enchanting kitten flower garden design to the intricate detailing of the botanical print, each element is carefully curated to create a masterpiece. The old-fashioned kitten illustration brings a unique appeal, adding warmth and character to any space.
The beauty of our botanical cat garden art is not just in its visual appeal but in its versatility. Whether you want to adorn your living room wall or add a touch of class to your office, this art piece will fit seamlessly into any décor.
Designed with love and crafted with passion, our vintage cat lithograph reproduction print offers an exclusive, luxurious experience that you'll cherish for years to come.
Join us on a journey through art and elegance. Allow the vintage cat decor artwork to inspire you, and let the vintage cat garden illustration sweep you away to a world filled with grace and grandeur.
Digibuddha is here to help you express yourself through timeless art, and our vintage cat antique reproduction is just one example of how we make the ordinary extraordinary.
At Digibuddha, we understand that art is not just about aesthetics; it's about creating a connection with the viewer. Our antique floral lithograph reproduction print does just that, bridging the gap between yesterday and today.
With the kitty garden artwork vintage, we've captured the timeless appeal of nature and combined it with the playfulness of a young cat. The floral garden cat design is a celebration of life, love, and beauty, captured in exquisite detail.
The classic kitten floral print is a tribute to the grace and elegance of bygone times. If you have an appreciation for elegant botanical cat art, this piece will resonate with you. Our flower patch kitten print is more than a simple image; it's a nostalgic cat garden art that will transport you back to a simpler time.
The lithograph reproduction kitten flower design encapsulates a world where beauty is found in the simplest things, and our vintage floral cat illustration brings this world to life.
We invite you to explore the antique flower garden print and see the world through the eyes of the artist. Experience the delicate charm of the vintage era with our carefully crafted art pieces.
Whether you want to enhance your home's decor or gift a loved one something special, Digibuddha's collection promises to deliver quality, creativity, and a unique artistic experience. Immerse yourself in the beauty of our art and let it inspire you to see the world in a new light. Let Digibuddha be your gateway to a world filled with elegance, nostalgia, and timeless beauty.
View all Vintage Cat Art Prints.