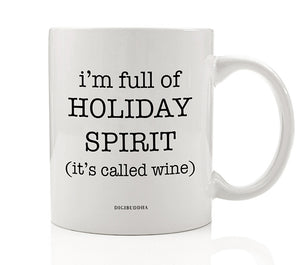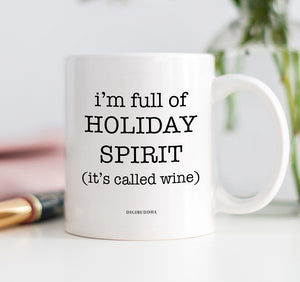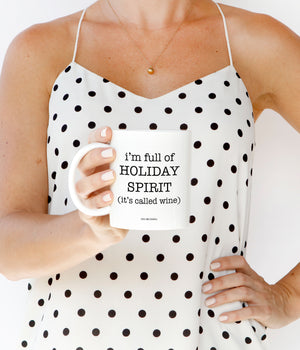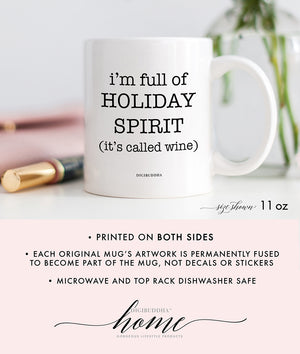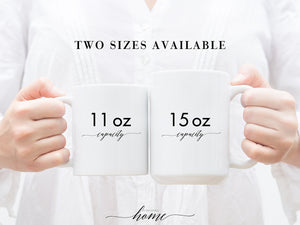 Full of Holiday Spirit Coffee Mug
Get your hands on this sassy, wine-inspired I'm Full of Holiday Spirit It's Called Wine coffee mug. Perfect for those with a love for the festive season and a good sense of humor. The ideal Christmas mug to brightly toast the season, this holiday mug is full of character. If you're in search of Christmas mug ideas that stand out, this playful and modern design is the perfect funny Christmas mug to spread some cheeky cheer.
• Premium Quality: Our full of holiday spirit mug is crafted from fine white ceramic, promising a flawless glossy glaze finish.
• Fused Design: The quote is permanently fused with the mug, making it long-lasting and immune to scratches or fading.
• Microwave and Dishwasher Safe: Our mugs can handle the heat, both in the microwave and the top rack of your dishwasher.
• Sizing Options: You choose your dose of holiday spirit, in an 11 oz or a generous 15 oz mug.
• Packaged with Care: Mugs are securely packaged and shipped to ensure no Grinch can ruin your holiday spirit!
Our full of holiday spirit mug is the ultimate funny Christmas coffee mug that will inject a dose of joy and laughter into your holiday season. It's not just a ceramic Christmas mug; it's a statement of your jovial holiday spirit that adds a humorous touch to your morning routine.
Unleashing the power of humor in everyday objects, this mug is an excellent choice for those who appreciate cool coffee mugs with a dash of wine. Its playful design will surely make it a standout piece in your collection of holiday mugs. This witty mug also makes for an amusing and unique gift for those looking for Christmas gifts for wine lovers.
This holiday season, celebrate with style, humor, and a touch of wine-fueled cheer. Our I'm Full of Holiday Spirit It's Called Wine mug is sure to add some pep to your step, a chuckle to your morning, and a little more fun to your holidays.