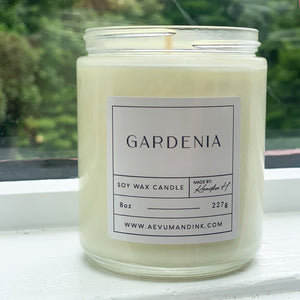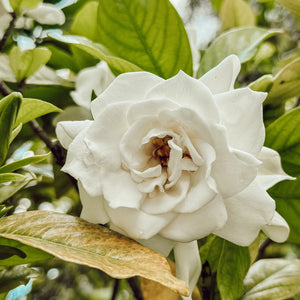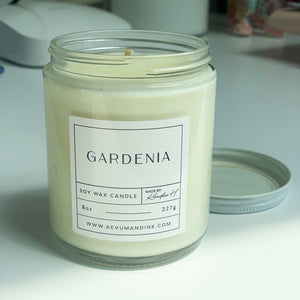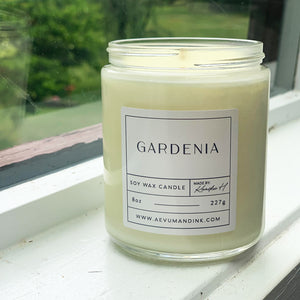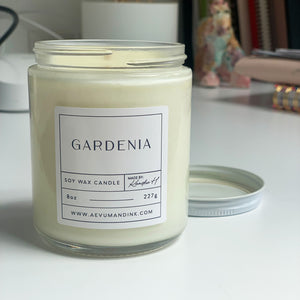 Embrace the serenity of nature with our Gardenia candle with soy wax, a jewel in the crown of our Aevum + Ink scented candles collection. As the gardenia blooms in the heart of the candle, the sweet, intoxicating aroma transports you to a blossoming garden, invigorating your senses.

8oz soy wax candle
reusable glass jar

phthalate free fragrance and essential oils

Classic white gardenia smells like a sweet, lush garden in full bloom. 
Take a moment to browse our range of floral scented soy candles online, and you'll discover a garden of fragrances, each one meticulously crafted to deliver a unique sensory experience. Our Aevum + Ink gardenia candle, in particular, exudes a charm that sets it apart, making it the best gardenia candle for gifts.

Every gardenia candle is handmade with passion and precision. The handmade candles with gardenia fragrance deliver a scent that is consistently delightful, filling your space with a fragrance that lingers long after the flame is extinguished. Using premium soy wax in all gardenia scented candles ensures a clean burn and an aroma that is true to life. 
Discover the ease and convenience of shopping with Digibuddha as you buy gardenia candle online from the comfort of your own home. Take a moment to indulge in the luxurious experience that our luxury gardenia candle provides, releasing natural scents that create an ambiance of tranquility and peace.

Every comforting gardenia candle from Digibuddha is a step towards a more sustainable lifestyle. As purveyors of eco-friendly floral candles, we ensure our natural soy candles with gardenia don't compromise on environmental responsibility. Our artisan soy candles online are not just about providing a fragrant ambiance; they're also about contributing to a greener, cleaner planet.

Finding solace after a long, stressful day can be as simple as lighting one of our scented candles for stress relief. Our natural fragrance candles for home are designed to soothe your senses and provide a sense of calm and tranquility. Not only are our soy candles long-lasting, but they're also created to envelop your space with comforting scents for home candles that evoke warmth and serenity.

Gifting made easy with Digibuddha's selection of the best candles for gift baskets. Our Aevum + Ink luxury soy candles are the perfect way to show your loved ones that you care. And the beauty doesn't just lie in the scent; it's in the details too. Our soy candles with natural oils are meticulously designed to provide a fragrant experience that lingers, making every moment special. Transform your home with Digibuddha's handcrafted candles and discover the power of fragrance today.