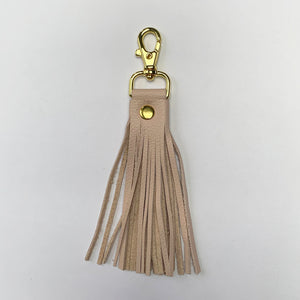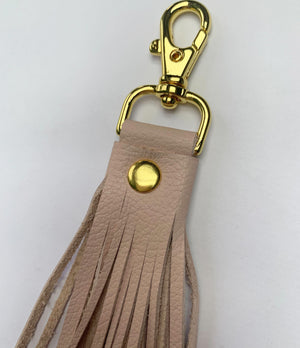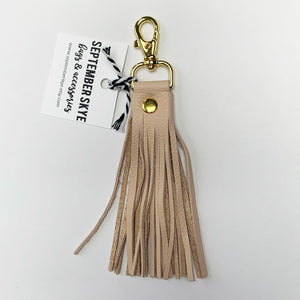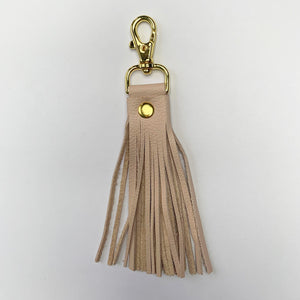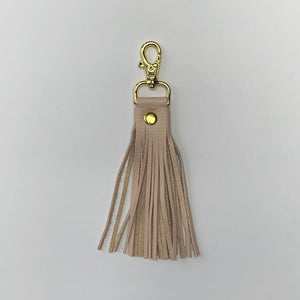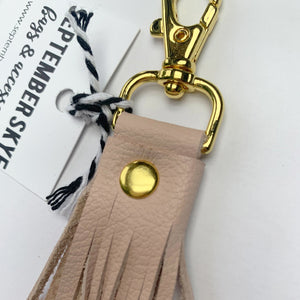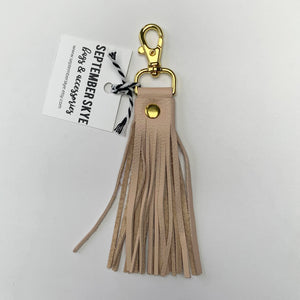 Genuine Leather Tassel, Blush Pink
Discover our Leather Tassel Keychain, a must-have accessory that radiates charm and style. A part of our Genuine Leather Tassel Accessories collection, it offers you a perfect blend of style and practicality. The Pink Leather Tassel has a blush hue that's subtle and chic, making it a versatile addition to your collection. It effortlessly adds a dash of color and sophistication to any bag or key set.
Gold clip & hardware
Genuine leather, handmade
Pale Blush Pink

Our Blush Pink Leather Tassel isn't just for show. It's a Leather Tassel for Handbags that is functional, adding flair to your favorite bag while serving as a handy item to clip small necessities. These Luxury Keychain Accessories are handmade, reflecting meticulous craftsmanship and a love for detail. It's not just an accessory; it's one of our Handmade Leather Gifts that offers a sense of indulgence in everyday life.

Our Pink Handbag Charms and Pink Accessory for Bags range are Artisan Crafted Leather Items that are truly unique. Each piece carries an air of exclusivity, designed and crafted to ensure that no two pieces are identical. The blush pink hue adds a soft, feminine touch to your accessories. Whether it's for your handbag, keys, or as a stylish gift, our pink leather tassel is a chic and elegant choice that you'll love.
This artisan-crafted leather item is painstakingly designed and assembled, ensuring each tassel is as unique as you are. The Leather Tassel with Gold Clip lends a touch of glamour to the piece, adding a subtle sparkle that catches the eye without being overpowering.

Our Leather Tassel for Handbags is a perfect addition to any bag, adding an element of elegance and sophistication. But the versatility of our tassel doesn't stop there. As a Leather Tassel for Keychains, it can transform your ordinary keyring into an object of style. Similarly, use it as a Leather Tassel for Purses to give your favorite purse an instant facelift.

In the world of Elegant leather accessories, our tassel shines brightly. Its simple yet striking design and high-quality craftsmanship make it one of the most Unique leather gifts you can give or receive. Whether it's a gift for a loved one or a special treat for yourself, this tassel is sure to impress.

Handmade leather gifts are known for their quality and charm, and our tassel is no exception. It's not just an accessory; it's a testament to exquisite craftsmanship and timeless style. Ideal for anyone who appreciates Leather Keychain Accessories or chic bag accents, this tassel is a gift that keeps on giving. Experience the charm of genuine leather and high-quality craftsmanship with our stunning leather tassel.
Each of our Handmade Leather Tassels is crafted with meticulous attention to detail, ensuring that every piece stands out as a symbol of quality and style. The Leather Tassel with Gold Hardware is a standout feature, adding a sophisticated touch to the blush pink hue of the tassel. This isn't just an accessory, it's a Premium Leather Tassel designed to be a stylish accent to any outfit or accessory.

Our Leather Tassel Gifts are a unique way to express your style and appreciation for quality. They aren't just High-quality Leather Accessories, they're an extension of your personal style, a little piece of luxury that you can take with you wherever you go. Our Pink Leather Gifts are versatile, unique, and always chic, making them the perfect gifts for any occasion.

Our Elegant Leather Keychains are a blend of functionality and style. Each piece is designed with the aim of enhancing your daily experiences with a touch of luxury. Our Luxury Leather Gifts, from keychains to tassels, are created with an unwavering commitment to quality and style. We believe that the smallest details can make the biggest difference, which is why we meticulously craft every piece.

In the realm of Blush Pink Bag Accessories, our leather tassel reigns supreme. It adds a touch of soft color and sophistication to your favorite bags. Every accessory, including our Handmade Bag Charms, is designed to be a stylish yet practical addition to your daily essentials. Our goal is to enhance your everyday experiences with accessories that bring a sense of style, luxury, and joy.