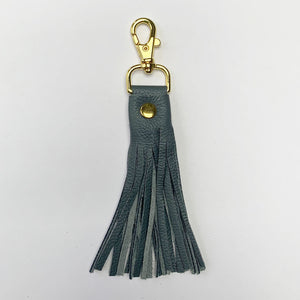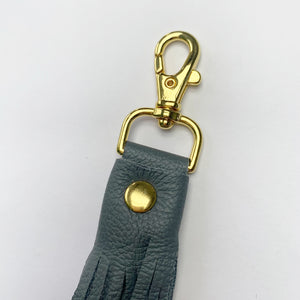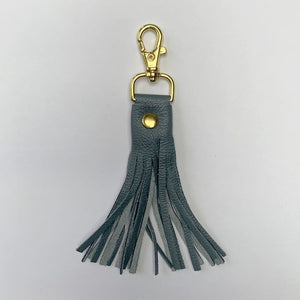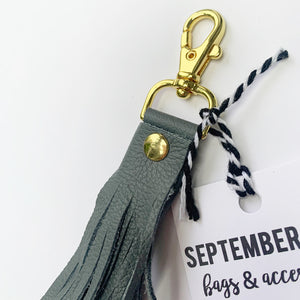 Genuine Leather Tassel, Grey
If you're looking for the Best Leather Tassel to spruce up your handbag, wallet, or keychain, you've landed at the right place. We present to you our Genuine Leather Tassel in a chic dark grey. This isn't just another accessory; it's a statement piece that adds a dash of luxury and elegance to your everyday essentials. Crafted from 100% genuine leather, this tassel is part of the exclusive range of our leather products line curated with an eye for quality and a heart for style.
Gold clip & hardware
Genuine leather, handmade
Dark Grey
Our High-quality Leather Tassel stands a class apart in the realm of Grey Accessories. Each tassel is handcrafted with the utmost care and precision, making them a unique piece of art. As a testament to our dedication to craftsmanship, these tassels are a perfect embodiment of high-quality handmade leather products. The dark grey shade lends a touch of sophistication, making the tassel versatile and suitable for any color palette.

What sets our Genuine Leather Tassel apart is its functionality. It's more than just a pretty accessory; it's a Leather Tassel for Accessories that can be clipped onto your favorite handbag, wallet, or keychain. As a standout in genuine leather bag accessories, it adds a touch of refinement and personal flair. Enjoy the feel of Luxury leather products every time you reach for your bag or keys. Embrace the luxury of genuine leather with our unique tassel, and make your everyday accessories anything but ordinary.
This artisan-crafted leather item is painstakingly designed and assembled, ensuring each tassel is as unique as you are. The Leather Tassel with Gold Clip lends a touch of glamour to the piece, adding a subtle sparkle that catches the eye without being overpowering.

Our Leather Tassel for Handbags is a perfect addition to any bag, adding an element of elegance and sophistication. But the versatility of our tassel doesn't stop there. As a Leather Tassel for Keychains, it can transform your ordinary keyring into an object of style. Similarly, use it as a Leather Tassel for Purses to give your favorite purse an instant facelift.

In the world of Elegant leather accessories, our tassel shines brightly. Its simple yet striking design and high-quality craftsmanship make it one of the most Unique leather gifts you can give or receive. Whether it's a gift for a loved one or a special treat for yourself, this tassel is sure to impress.

Handmade leather gifts are known for their quality and charm, and our tassel is no exception. It's not just an accessory; it's a testament to exquisite craftsmanship and timeless style. Ideal for anyone who appreciates Leather Keychain Accessories or chic bag accents, this tassel is a gift that keeps on giving. Experience the charm of genuine leather and high-quality craftsmanship with our stunning leather tassel.