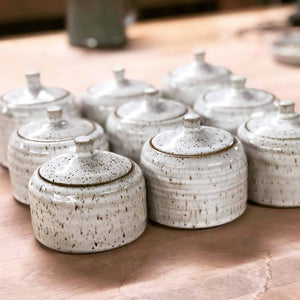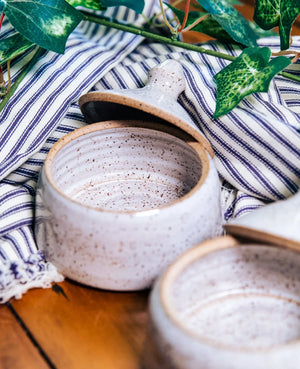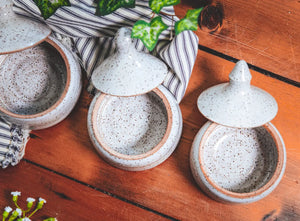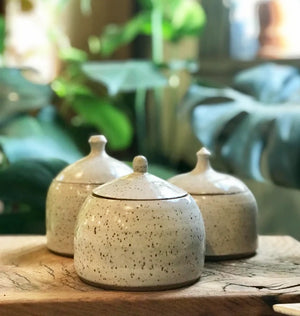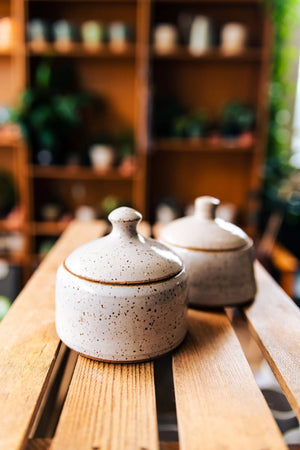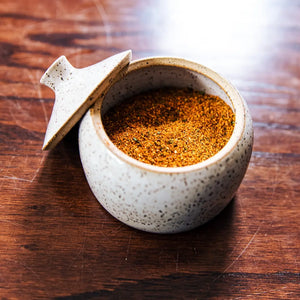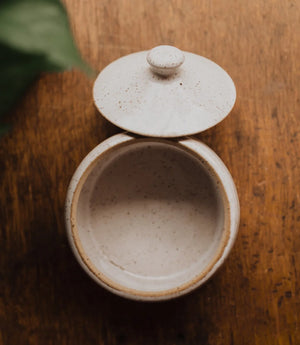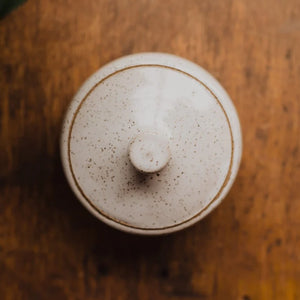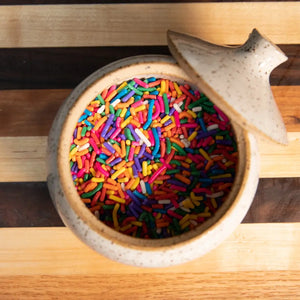 Glazed Ceramic Pinch Pot with Lid
Introducing our handmade ceramic pinch pot by East Wheeling Clayworks, a perfect blend of function and style. Expertly designed and crafted by skilled artisans, this American made pottery pinch pot adds a touch of sophistication to any kitchen setting. Made with utmost precision, the white glazed pinch pot showcases the beauty of handmade artistry, the perfect complement to your home's aesthetic. This ceramic pinch pot for kitchen is not just a pottery piece; it's an embodiment of craft, dedication, and exquisite art.
4 x 4 inches

pinch lid narrows to about 3-inch diameter

1/2 to 3/4-inch pinch top for grip

Made in West Virginia
More than a piece of pottery, it doubles as a handmade ceramic spice jar. It's a versatile item that can seamlessly move from the kitchen countertop to the dining table, making your culinary experience smoother. Whether you're in need of a ceramic sugar jar or a place to stash your specialty spices, this pinch pot with lid has got you covered. Its white glaze finish gives it an appealing luster, enhancing its natural charm.

Being a part of our artisan pottery kitchenware collection, each pinch pot is unique and tells a story of its own. But it doesn't just stop in the kitchen. This handcrafted ceramic jar can also serve as an elegant white glazed ceramic bowl, perfect for showcasing your delectable appetizers or delectable desserts. Each piece holds the love and dedication of the craftsmen, bringing a personal touch to your kitchen. Experience the finesse of handcrafted pottery, experience the charm of our pinch pots.

Crafted to perfection, each ceramic glazed pinch pot is a masterpiece in itself. The glaze finish adds a rich, smooth texture, making this small pinch pot an elegant accessory for your kitchen. Its compact size belies its versatility and functionality. Use it as a pinch pot for charcuterie or as a decorative pinch pot; it's sure to add a touch of refinement to your gatherings and culinary creations.

Designed with a discerning eye, the ceramic pinch pot for spices is an essential addition to your kitchenware. From the spice rack to the dining table, it brings style and elegance. More than just a container, it's a statement of your taste and passion for fine kitchenware. Plus, these charcuterie board accessories will elevate your presentation, giving your gatherings a touch of gourmet sophistication.

Crafted with pride in America, these American made ceramic bowls are the result of passionate craftsmanship and the pursuit of excellence. The artisans bring generations of experience to every pinch pot, making each piece unique. This is especially true for our artisan crafted spice containers. Each one is a result of meticulous attention to detail and the essence of craftsmanship, perfect for those who value the finest kitchenware.

More than just a kitchenware item, this ceramic decorative pottery piece doubles as a stylish decor piece that can grace your kitchen shelves or your dining table. It's not just about utility, but also about enhancing your kitchen aesthetics with ceramic kitchen accessories that speak volumes about your style. Experience the joy of owning a product that combines practicality, aesthetics, and artisanal charm - our ceramic glazed pinch pot is all this and more.