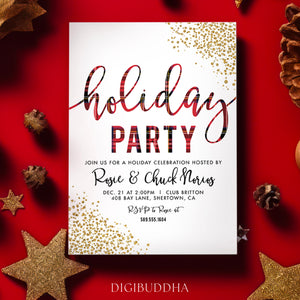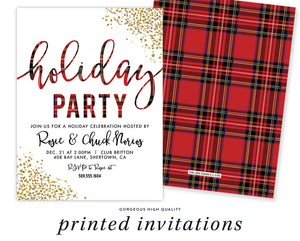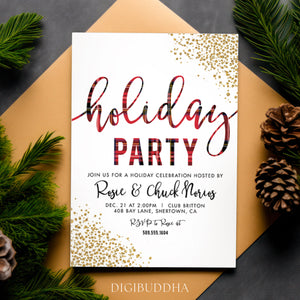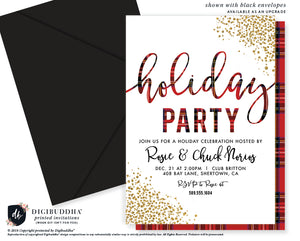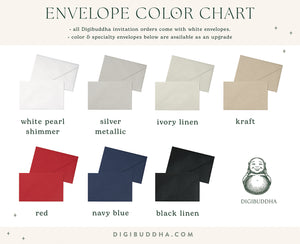 Gold and Red Plaid Christmas Party Invitations
Introducing the ultimate in holiday elegance: our red plaid Christmas party invitations! These stylish, holiday party invitations are the perfect way to kick off your festive celebrations. With their modern, chic design featuring Christmas red and a golden glitter look, they're sure to get everyone in the holiday spirit!
Customizable: Personalize with your event details, host, and RSVP information.
Quality Printing: Full-color, double-sided printing for a professional finish.
Perfect Size: Approximately 5x7", ideal for mailing or hand delivery.
Envelope Options: Standard white or upgrade to a color of your choice.
Quantity Flexibility: Available from as low as 10 to 250+ with built-in discounts.
There's something uniquely joyful about sending out Christmas party invites to your loved ones. It's more than just a date and place; it's the first promise of the holiday cheer, camaraderie, and the heartfelt warmth that the season brings. It sets the tone for an event filled with laughter, Christmas cocktails, and the comfort of red and black plaid Christmas decor.
Furthermore, these holiday party invite aren't just a means to share your event's details; they're keepsakes, reminders of the merry time spent with friends, family, and everyone who makes the holiday season special. With the backer including a coordinating design that can even feature a custom photo, these invitations are sure to be saved by all your guests!

So, why wait? With these Christmas party invitation ideas, you can start the season's celebrations on a high note. The simple personalization process, quick priority shipping for US orders, and the joy of choosing a unique design like our xmas invitation style, it's not just an invite; it's the beginning of something magical. And remember, the more you need, the more you save!