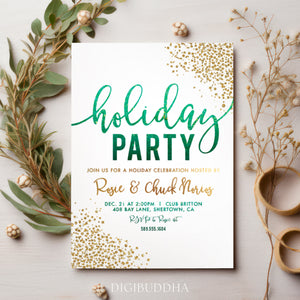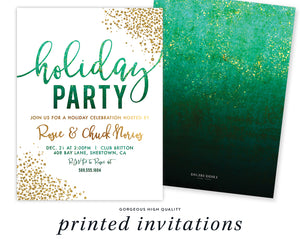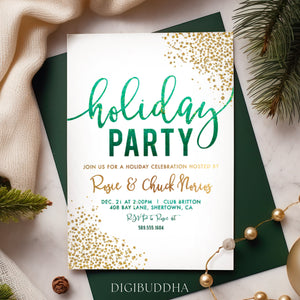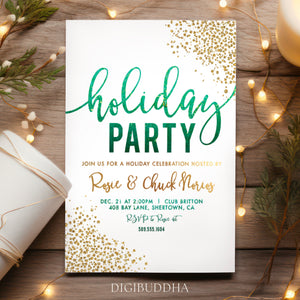 Green Ombre Christmas Party Invite
Kick off your holiday festivities with our green ombre Christmas party invite, the perfect start to a memorable season. These holiday party invitations aren't just notices but a beckoning of good cheer and imminent fun. With their festive ambiance and modern flair, they're an irresistible herald of the merriment to come.
Fully Personalized: Tailor your Christmas party invite with all your event's details for a personal touch.
Double-Sided Color: Full-color printing on both sides for a vibrant, attention-grabbing look.
Custom Backer: Upgrade the back design with additional text or a chosen photo for a unique twist.
Various Quantities: Available from as low as 10 to 250+ with built-in discounts for larger orders.
Simple Personalization: Just type in your details, add to cart, and our designers do the rest!
Hosting a party isn't just about gathering folks; it's about creating joy, celebrating togetherness, and making memories that warm the heart long after the cold has passed. And what better way to set the tone than with an invite that promises all this and more? Our Christmas party invitation ideas are infused with the spirit of the season, designed to kindle excitement in every recipient.
As the season of perpetual hope dawns, our Christmas card invitation sets the stage for an event steeped in the spirit of love, laughter, and communal joy. Whether it's for a toast of Christmas cocktails or a cozy gathering with close ones, let your holiday commence in the most stylish, spirited way with these chic xmas invitations.
But why stop at the usual? Make your annual get-together an anticipated event with our annual Christmas party invitation. Transform your seasonal soiree into an elegant, unforgettable affair with our holiday party invites, crafted for those who cherish the finer details and delight in the charm of the season.

With every green ombre Christmas party invite, you're not just sending a card; you're extending a hand, sharing your world, and expressing the very essence of Christmas - connection. It's more than paper; it's the promise of good times, the anticipation of laughter, and the start of wonderful memories. Let your holiday story begin with a whisper of excitement, a splash of glamour, and a wave of happiness.