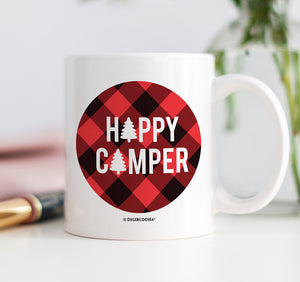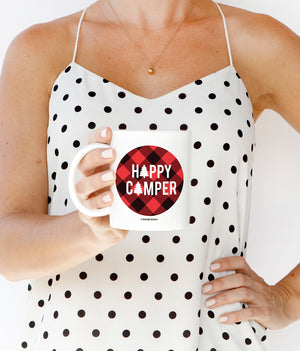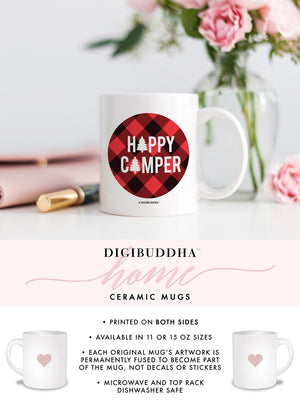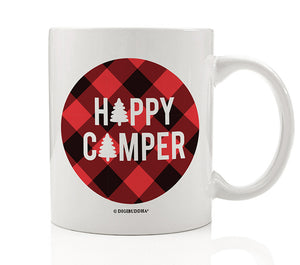 Say goodbye to dull mornings and hello to cheery days with our happy camper mug! For the nature enthusiast who appreciates both adventure and comfort, our happy camper coffee mug merges function with style. Perfect as a companion for your daily routine or those cherished camping moments, our mug is all about sharing in your joys. This happy camper accessory effortlessly becomes an essential part of your morning rituals and a delightful addition to your happy camper products collection.

• Durable: Made from fine white ceramic with a glossy glaze finish for longevity.
• Original Artwork: Custom made with art permanently fused onto the mug for a unique touch.
• Double-Sided Print: Art printed on both sides to display your mug's design from any angle.
• Microwave & Dishwasher Safe: Easy to clean and safe to use in the microwave.
• Two Sizes Available: Choose from 11 oz or 15 oz sizes to suit your coffee drinking needs.

Pour your favorite brew into our happy camper coffee mug and relish in its exceptional style and practicality. It's not just a modern coffee mug – it's a celebration of your love for the great outdoors. The vibrant red and black buffalo plaid design complements the evergreen tree graphic, adding that extra touch of charm to this unique coffee mug.
Our happy camper coffee mug is designed for those who enjoy the simpler things in life but still appreciate a dash of the extraordinary. This camping coffee mug is the ideal choice for the modern adventurer – sturdy enough for outdoor excursions and chic enough for your kitchen cabinet.
Even when you're not out exploring, our happy camper mug brings a bit of the wilderness into your home. As a part of your happy camper products collection, it serves as a fond reminder of fireside chats and starry night skies. Perfect for sipping your morning coffee or a warming hot chocolate on a chilly evening, it's more than just a modern coffee mug – it's a ticket to nostalgia and a call to future adventures.
Finally, there's no need to stress about gift-giving anymore. Our happy camper coffee mug makes for the ideal present. Be it for the devoted camper in your life or as a unique addition to someone's cute mugs collection, it's sure to put a smile on their face and warm their heart – much like a good cup of coffee!