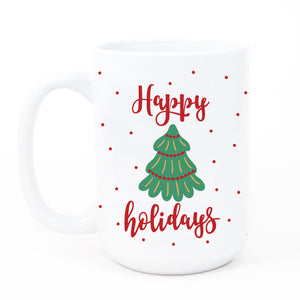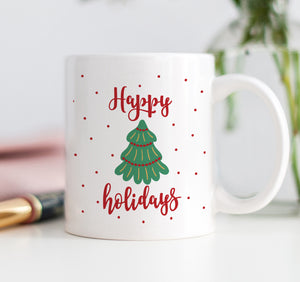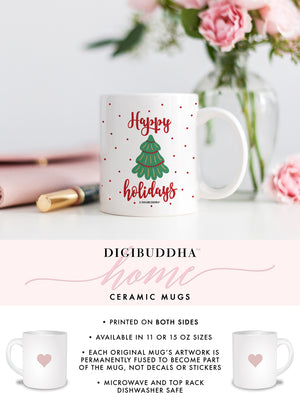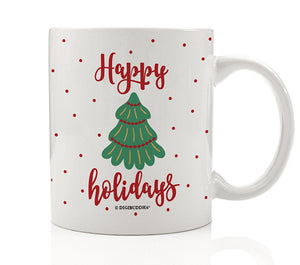 Happy Holidays Coffee Mug
Dive into the holiday spirit with our Happy Holidays coffee mug. This unique Christmas tree mug is the perfect way to kickstart your mornings this season, or snuggle up by the fire with your favorite hot chocolate mug.

• Quality: Our mugs are made using fine white ceramic with a flawless glossy glaze finish with art printed on both sides!
• Original Design: Each original custom made mug is permanently fused so the art becomes part of the mug, NOT decals or stickers.
• Convenience: Microwave & top rack dishwasher safe.
• Size Variety: Available in 11 oz or 15oz.
• Securely Packaged: Securely packaged & shipped to protect from damage.
Gift our Christmas coffee mugs to your loved ones or make this your favorite Christmas mug. Nothing screams Christmas evergreen mug quite like this Happy Holidays coffee mug.
Whether you're on the hunt for Christmas mug gift ideas or you're a collector of holiday mugs, this mug will surely bring a smile to your face. The vibrant Christmas tree graphic and the bold 'Happy Holidays' in red are designed to boost the holiday mug charm and bring an element of fun and festivity to your daily routine.
So sit back, relax, and sip from your Christmas tree coffee mug as you countdown to the most wonderful time of the year. After all, the holidays are about creating and cherishing those special moments, even if they are as simple as enjoying a hot beverage in your festive mug.
This holiday season, let this Happy Holidays coffee mug remind you to embrace the joy and warmth that comes with it. Make your holiday mornings brighter and evenings more comforting with your very own Christmas mug tree. A perfect blend of modern design and nostalgic holiday feel, it's more than just a mug, it's a dose of holiday cheer!