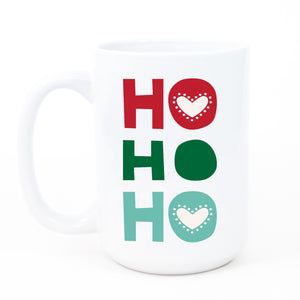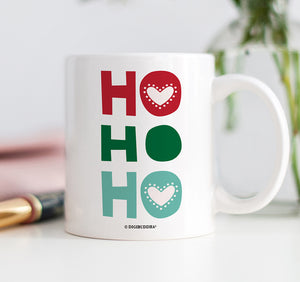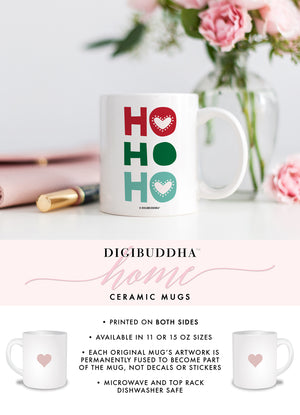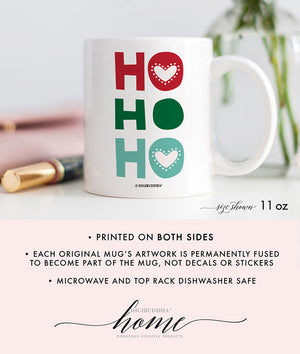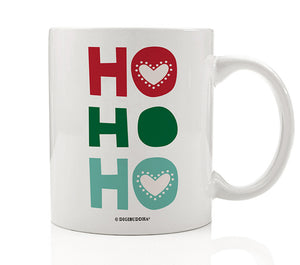 HO HO HO Christmas Coffee Mug
Kick-start your festive season with our HO HO HO Christmas Coffee Mug. This isn't just another funny Christmas coffee mug, it's a piece of holiday cheer in vibrant, large letters spelling out a merry "HO HO HO". Designed with modern, trendy, and fun elements in mind, it'll leave you grinning with every sip. Whether you're hunting for ceramic Christmas mug ideas or merry Christmas mug gift ideas, we've got you covered. Besides, who doesn't love a dose of seasonal laughter with their morning brew?
• Ceramic Quality: Enjoy your favorite beverages in a mug that's designed to last, thanks to its fine white ceramic construction and a flawless glossy glaze finish.
• Permanent Art: The vibrant "HO HO HO" art is permanently fused into the mug. Forget about those shoddy decals and stickers.
• Double-Sided Art: No matter which way you hold it, the festive design is on full display with art printed on both sides.
• Dishwasher & Microwave Safe: This merry mug is built for convenience—it's safe for both the top rack of your dishwasher and your microwave.
• Two Sizes: Choose from an 11 oz or 15 oz option to suit your caffeine needs.

There's something about holding a funny Christmas coffee mug in your hands that can make a cold winter morning feel warm and cozy. This isn't just about drinking your favorite beverage—it's about being a part of a cheerful, festive tradition. And our hohoho merry Christmas mug is designed to elevate your seasonal spirit.

Think of all those ceramic Christmas mug ideas you've come across. Yes, they're pretty, but do they resonate with your festive excitement? Our mug does. It screams "HO HO HO" in a fun, cheeky way that's sure to bring a smile to your face.
Gift-giving can be a challenge, especially during the holiday season when you're on the hunt for the perfect item. This is where our merry Christmas mug steps in. It's not just another holiday gift mug—it's a vessel of cheer and warmth. Consider it a Christmas greeting that can be used and appreciated every single day.
Your search for coffee mug Christmas gift ideas ends here. For your work Secret Santa, your child's teacher, your next-door neighbor, or your best friend, this mug is the ideal way to spread holiday joy. Not to mention, it's also a great self-gift. After all, why should you miss out on the fun of sipping from a Santa hohoho themed mug?
And there you have it—a Christmas themed mug that spreads cheer, makes a perfect gift, and offers you a delightful coffee-drinking experience. Ho Ho Ho! Get ready to embrace the holiday spirit in every sip with Digibuddha.