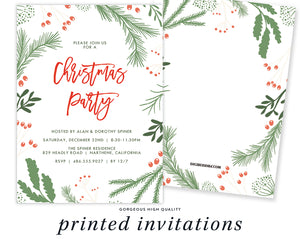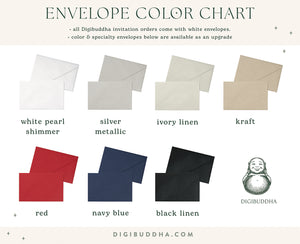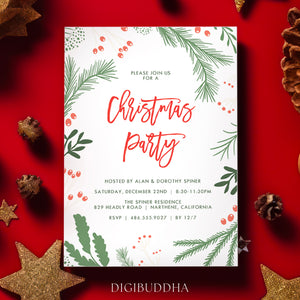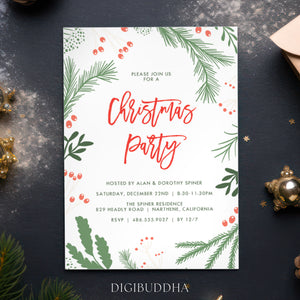 Holly Festive Christmas Party Invitations
Unleash the holiday spirit with our holly festive Christmas party invitations! Perfect for gathering everyone this holiday season, these invites are a must-have for the host with the most. Our holiday party invitations are not just invites but keepsakes your guests will cherish. Whether you're planning a laid-back dinner or a sophisticated Christmas cocktails night, these invites are your first step to a memorable bash!
Quality: Premium approx 5x7" invites, full-color, double-sided print.
Personal Touch: Tailor your Christmas party invite with event details, custom text, or photos.
Style: Holly, evergreen designs set the festive mood instantly.
Convenience: Quick, professional design layout & Priority Mail/UPS delivery.
Extras: Colorful envelope options & volume discounts. With invites available in sets from 10 to 250+, we're ready for your guest list!
Nothing beats the excitement of receiving a physical holiday party invite in the mail, especially one that's as cheerful and welcoming as our holly festive invites. Your guests can't help but feel the holiday spirit the moment they open their mailboxes!
When the cold December wind starts howling, everyone knows it's Christmas party season! And what better way to kick off your annual celebrations than with a bang? Our holly and evergreen holiday party invites are your perfect starting point. Each invite serves not just as a summons to your fabulous shindig but as a warm hug you send through the mail!
From the vibrant holly and evergreen motifs to the customizable details that make each invite uniquely yours, these Christmas party invitation ideas are designed to delight. And let's not forget, the more the merrier! With invites available in sets from 10 to 250+, we're ready for your guest list, whether it's a cozy gathering or a grand gala. Plus, the built-in discounts mean you save more when you celebrate more!
So, ready to make merry memories? Your perfect holiday bash starts with a holly festive Christmas party invitation from us. Let's jingle all the way!