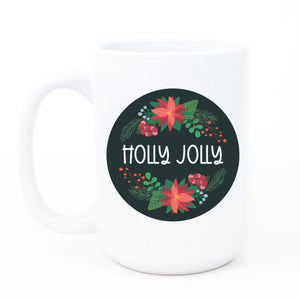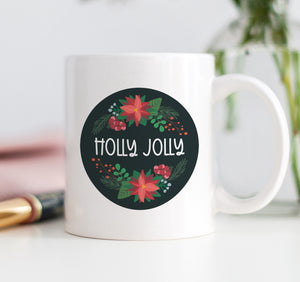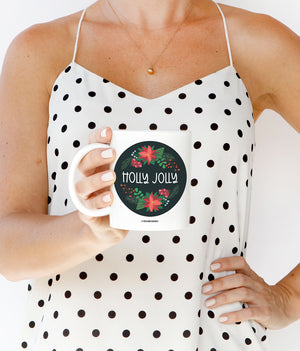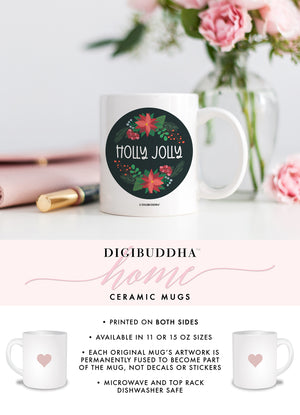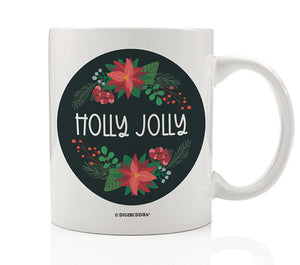 Holly Jolly Floral Coffee Mug
Welcome to your new favorite holiday mug, the Holly Jolly Floral coffee mug, filled with the joy of the season, captured perfectly in vibrant hues of Christmas holly. You don't have to look for more Christmas mug ideas. With its modern boho design featuring beautiful floral patterns, it's sure to make every sip feel like a holiday gift mug.

• Fine White Ceramic: Our mugs are made using fine white ceramic with a flawless glossy glaze finish for a superior quality feel.
• Permanently Fused Artwork: Each mug is permanently fused so the art becomes part of the mug, NOT decals or stickers.
• Microwave & Dishwasher Safe: All our mugs are both microwave and top rack dishwasher safe.
• Available in 11oz or 15oz: Choose the size that suits your needs.
• Securely Packaged: Our mugs are securely packaged & shipped to protect from damage.
This holly jolly floral coffee mug isn't just for decoration, It's an invitation to slow down, to take a moment for yourself during the busy holiday season. Imagine starting your day with a warm cup of coffee in this beautiful holiday mug, the vibrant Christmas holly design bringing a smile to your face. It's the perfect way to add a little bit of joy to your daily routine.
Looking for Christmas mug ideas? This mug checks all the boxes. With its elegant design and high-quality finish, it's the kind of gift that tells the recipient, "I thought of you." It's a step above your average holiday gift mug, making it a great option for everyone from your office Secret Santa to your beloved grandmother.
Are you a fan of vintage charm? This mug's design takes inspiration from vintage Christmas mug styles, but with a modern twist. The result? A mug that feels both nostalgic and fresh. It's perfect for those who appreciate a blend of old and new.
Last but not least, we must mention the cozy factor. With its hygge-inspired design, this mug is perfect for those cozy moments by the fireplace. You can almost hear the crackle of the fire as you wrap your hands around this warm hygge mug. It's not just a coffee mug, it's an experience - a way to savor those quiet coffee mug by fireplace moments.
The Holly Jolly Floral coffee mug is more than just a mug. It's a celebration of the holiday season, a blend of elegance and coziness, and a perfect gift idea. So why wait? Add a touch of joy to your holiday season with this beautiful mug.