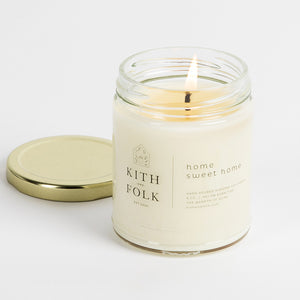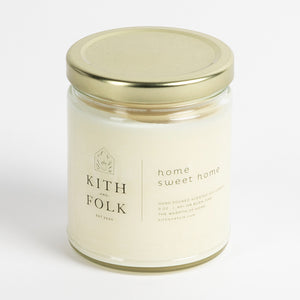 Home Sweet Home Spa Soy Candle
TOP NOTES: Eucalyptus
MIDDLE NOTES: Spearmint
BASE NOTES: Musk
The "Home Sweet Home" spa soy candle from Kith and Folk is made with a soothing blend of gentle eucalyptus and spearmint together with a whispy musk base that works to reduce stress. Create a fresh, calming spa atmosphere at home sweet home.
Made with 100% soy wax
Pure cotton wick
Clean burning
Stree-reducing fragrance
Up to 50 hours burn time
Indulge in a tranquil and relaxing atmosphere with the Home Sweet Home soy candle from our collection. With its soothing blend of gentle eucalyptus and invigorating spearmint, this high-quality soy wax candle promises an aroma that delicately balances refreshment and relaxation. As part of the exclusive Kith and Folk scented candles line, this product offers an unparalleled scent experience that effortlessly combines a sense of home with a touch of luxury.
Each candle is thoughtfully designed for the ultimate aromatic experience. The eucalyptus scented candles are well-loved for their ability to infuse a calming atmosphere into any space, while the spearmint scented candles are noted for their lively, uplifting scent profile. The candles with cotton wick promise a clean and even burn, ensuring you can enjoy their wonderful fragrance without interruption. Embodying the essence of clean burning candles, Kith and Folk's Home Sweet Home candle stands as a testament to our commitment to a pure and invigorating scent experience.
As an added bonus, the Home Sweet Home soy candle doubles as a stress reducing scented candle. The aroma of eucalyptus and spearmint, grounded with a base note of musk, is designed to ease tension and create a serene environment. These long-lasting scented candles boast up to 50 hours of burn time, so you can count on the soothing scent to accompany your relaxation sessions for weeks on end. Dive into the world of musk base note candles with our Home Sweet Home candle, and elevate your home ambiance to a whole new level of tranquility and comfort.
Ideal for transforming your space into a personal sanctuary, the Home Sweet Home candle easily stands among the best scented candles for home spa experiences. Our range is carefully curated to deliver the best soy wax candles on the market. The secret to our success? We understand the value of a scent that doesn't overpower but rather complements your space and your mood, wrapping you in an embrace of comfort and tranquility.
Experience the epitome of luxury scented candles with our Home Sweet Home soy candle. Each piece from our premium eucalyptus candles collection is meticulously hand-poured, ensuring you receive only handmade soy wax candles. The moment you light up one of our candles, you can expect to be enveloped by a wave of delightful fragrance that is as comforting as it is enchanting. Our Kith and Folk eucalyptus candles truly capture the essence of what it means to sit back, relax, and take a moment just for you.
But the luxury doesn't stop at the eucalyptus. Our soy candles with spearmint scent add an extra burst of refreshment, invigorating your senses and rejuvenating your mind. These aromatherapy candles for stress are truly a gift to yourself, a gift that keeps on giving thanks to the soy candles with long burn time.
As a final flourish, our Home Sweet Home product, like all spa scented soy candles in our range, promises a cleaner, healthier burn. This is the Kith and Folk promise: to create products that not only delight your senses but also respect your well-being and the environment. Dive into the world of spa-like tranquility with our scented candles and let the magic of aroma transform your home into a haven of relaxation and serenity.
In an era where sustainability is key, we take pride in crafting eco-friendly scented candles. With every Home Sweet Home candle, you are not only purchasing an item of relaxation but also making a conscious choice to support the environment. Infused with the serene scent of eucalyptus and the invigorating aroma of spearmint, our candles for home relaxation are designed to create a soothing ambiance that evokes peace and tranquility.
One of the distinct characteristics of our therapeutic scented candles is the use of pure cotton wick candles. This feature, along with our commitment to use only high-quality soy wax and natural ingredients, ensures a cleaner and healthier burn. Our candles don't just smell good; they're good for you and the environment too! The Home Sweet Home by Kith and Folk is a testament to this dedication, embodying our belief in holistic wellbeing.
If you're searching for scented candles for stress relief, look no further. Our candles are specially formulated to help reduce stress and promote relaxation. With up to 50 hours burn candles, you can enjoy the therapeutic benefits of our candles for even longer. Light one up after a long day and let the soothing scents transport you to a state of peace and calm.
Our Home Sweet Home candle is the epitome of boutique scented candles. Expertly crafted and elegantly presented, it is undeniably one of the best candles for home spa experience. The minute you light one up, you'll be enveloped by a captivating aroma that transforms your space into a luxurious spa. Let the Home Sweet Home by Kith and Folk turn your everyday routine into an indulgent ritual of relaxation and self-care. Explore the world of boutique candles with us and step into an oasis of calm, right in your own home.