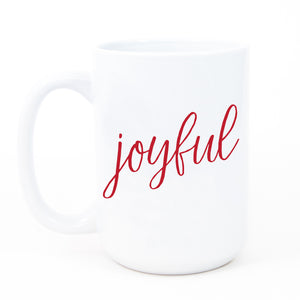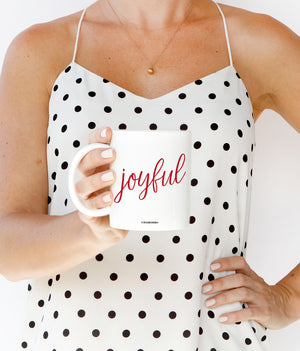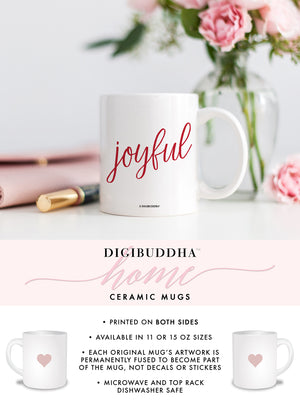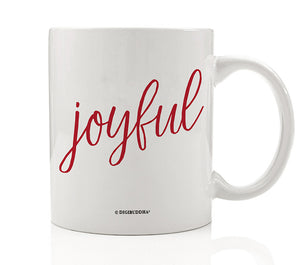 Joyful Christmas Coffee Mug
Step into the festive spirit with our Joyful Christmas coffee mug. This is not just a holiday mug, but a conversation starter that brings the simple joy mug concept to life. The vivid, Christmas red letters spell out joy in a minimalist, modern design, making it a perfect Christmas holiday season mug. For those on a hunt for the perfect secret Santa gift or scouring through Christmas mug ideas, this is the treasure you've been searching for.

• Superior Quality: Our mugs are made using fine white ceramic with a flawless glossy glaze finish.
• Unique Design: Each original mug is permanently fused so the art becomes part of the mug, NOT decals or stickers.
• Functional: Art printed on both sides. Microwave & top rack dishwasher safe. Available in 11oz or 15oz.
• Gift-ready: Perfect for a holiday gift mug, this mug comes securely packaged & shipped to protect from damage.
• Vibrant and Fun: A standout with its festive, vibrant design that's both modern and simple.
Experience the simple joy mug as you sip your favorite hot beverage, reveling in the warmth of the season. The modern, minimalist design, combined with the vibrant Christmas red letters spelling joy, truly encapsulates the spirit of a Christmas holiday season mug.
As a holiday mug, this joyful addition to your collection serves more than just coffee or hot chocolate. It serves smiles, shared laughter, and warm conversations. This is not just another holiday gift mug; it's a gift of joy, a reminder of the simple pleasures of life, making it a fantastic secret Santa gift or a cherished part of your holiday decor.
Our Joyful Christmas coffee mug is more than just a mug. It's a canvas that proudly displays your festive spirit. Whether you're looking for Christmas mug ideas or simply want to start your day with a dose of joy, this mug is the perfect choice.