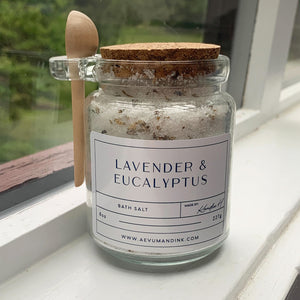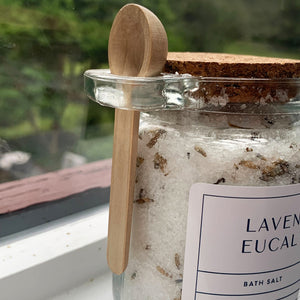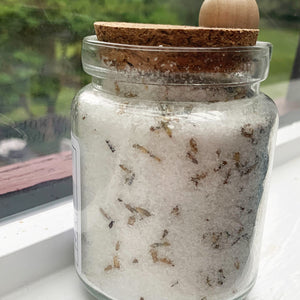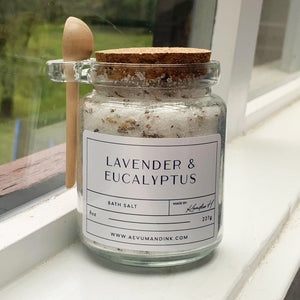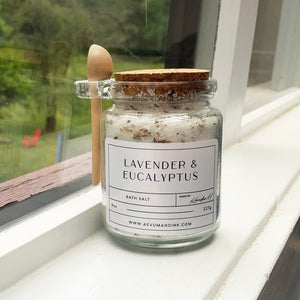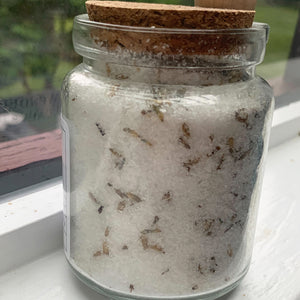 Lavender and Eucalyptus Bath Salts
Looking for the Best Lavender Bath Salts to uplift your spirit and ease your mind? Your search ends here! Our Lavender & Eucalyptus Bath Salts by Aevum + Ink are artfully crafted to bring a luxurious touch to your bath ritual. Let the soothing scents of lavender and eucalyptus turn your bath into a sanctuary of tranquility, all while offering the invigorating freshness of Eucalyptus Bath Salts for Relaxation. Not only will these salts relax your mind, but they'll also gently soften your skin.
8oz glass jar with cork stopper
small wood spoon included
Simple ingredients: epsom salt, dead sea salt, essential oils, dried botanicals
Our High-quality Bath Salts are part of our extensive range of Aevum + Ink wellness products, which are thoughtfully designed to complement your self-care routine. Each jar is filled with a lavish blend of natural, high-quality handmade spa products that are sure to enhance your bath experience. It's the perfect way to indulge in a little 'me-time' or a wonderful gift to show someone you care. The lavender and eucalyptus relaxation products that we offer are more than just bath essentials; they're an invitation to unwind and destress.

What sets us apart is our commitment to creating Essential oil-infused relaxation products that offer more than surface-level beauty. We understand that the best self-care rituals extend beyond the bathroom, and with our products, you're investing in your overall wellness. Our Lavender & Eucalyptus Bath Salts are just one example of our luxury self-care products, intended to foster a deeper connection with oneself. So why wait? It's time to transform your bath ritual with our irresistible, beautifully packaged bath salts. Just one soak, and we promise you'll feel the difference!
We take pride in our Handmade Bath Salts, which are created with meticulous attention to detail and an unwavering commitment to quality. These aren't your average salts; these are Bath Salts with Essential Oils. Infused with the natural essence of lavender and eucalyptus, our bath salts turn an ordinary bath into an extraordinary sensory experience. Housed in a beautiful Bath Salts in Glass Jar, they are a luxurious addition to any bathroom shelf or vanity.

The benefits of our Therapeutic Bath Salts extend beyond just a fragrant bath. The carefully selected botanicals in our Bath Salts with Botanicals help to soothe your skin, leaving it feeling silky soft and well-nourished. Every ingredient is thoughtfully chosen to elevate your bath routine to a rejuvenating, spa-like experience. As part of our range of handcrafted wellness products, these bath salts embody our passion for quality and our dedication to your wellness.

In the world of Organic spa products, ours stand out for their uncompromising quality and undeniable effectiveness. Our Lavender essential oil products, including these bath salts, carry the calming aroma of lavender fields, promising a serene bath time. Not to be outdone, our Eucalyptus essential oil products offer a breath of fresh, invigorating air that helps clear the mind and energize the spirit.

Whether you're treating yourself or searching for Relaxing gifts for stress relief, our bath salts are an impeccable choice. Give the gift of relaxation and peace to a loved one or indulge yourself - because you deserve it! With Aevum + Ink, each bath is more than a routine; it's a journey to serenity. So, light a candle, play your favorite soothing tunes, and let our bath salts transport you to a place of peace and tranquility. You won't be disappointed.