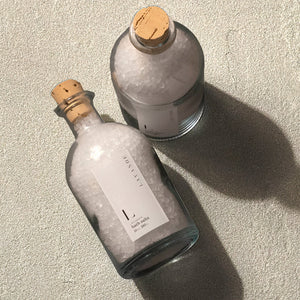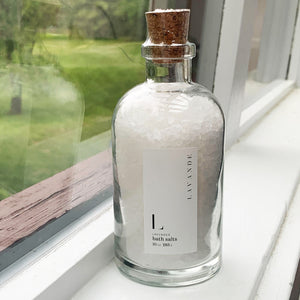 Welcome to a world of tranquility with Lavande's Lavender scented bath salts. A premium blend of sea salts, imbued with the calming notes of lavender, these bath salts are your ticket to a soothing end to a long day. Our high quality bath salts with lavender are designed to transport you to a place of serenity and peace, transforming your bathtub into an oasis of relaxation.
10oz, glass bottle with cork stopper
Simple ingredients: coarse mineral sea salt, lavender essential oil
Each crystal of our natural sea salt bath salts is infused with the therapeutic aroma of lavender essential oil. When these salts dissolve in your bathwater, they create an enchanting aroma that wraps around you. The lavender essential oil for bath time adds a luxurious touch, setting the stage for an indulgent bathing experience that goes beyond the ordinary. Not only do they smell divine, but our bath salts for relaxation also work to soothe your muscles, calm your mind, and prepare you for restful sleep.

Complete your self-care routine with our line of essential oil bath products. Like all Digibuddha offerings, these are carefully curated to offer a unique bathing experience. Our aromatherapy bath salts lavender blends perfectly with our other lavender scented bath products, offering a harmonious combination for an immersive, relaxing lavender bath soak. And for those in love with the sea's therapeutic properties, our natural sea salt bath soak is a must-have. Its ability to draw out toxins leaves your skin feeling smooth and renewed. 

Step into a cloud of tranquility as you dip into your tub filled with our soothing lavender bath salts. Infused with the aromatic essences of lavender essential oil, these bath salts with lavender essential oil provide a soothing comfort like none other.  It's more than just a bath, it's a ritual for stress relief. Our lavender bath salts for stress relief are an essential part of any self-care regimen.

Incorporating our soothing lavender bath products into your daily routine is not only an act of self-love, but it's also an opportunity to turn an everyday activity into an elevated experience. Every product in our high-end bath products with lavender line is designed with the intent to infuse your day with moments of tranquility. Lavender, known for its soothing properties, transforms your bath into a serene escape, whisking you away to your own private retreat.

With our essential oil relaxation for bath, each moment in your tub becomes a therapeutic escape. A perfect fusion of pure ingredients and the mesmerizing scent of lavender, our aromatherapy products for bath work in harmony to create an environment that is as relaxing as it is rejuvenating. The natural sea salt for bath we use acts as a purifying agent, drawing out impurities from your skin, while the lavender oil calms your senses.

Experience the best of relaxation and luxury with our Lavender relaxation bath product. Each soak promises an aromatic journey that calms the mind, relaxes the body, and uplifts the spirit. Remember, every day holds the possibility of a personal spa experience with Digibuddha. So, let's start today. Transform your bath, transform your mood.