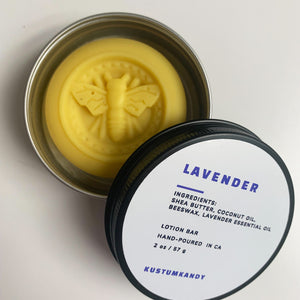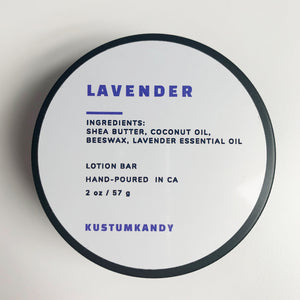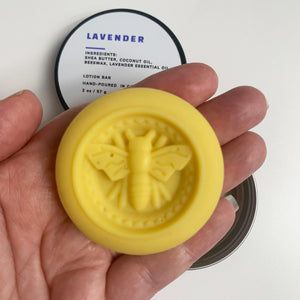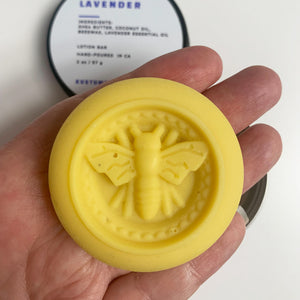 Are you ready to elevate your skincare routine with a little luxury? This Handmade Lotion Bar has been carefully crafted to envelop your skin with the comforting scent of lavender and the indulgent hydration of a Shea Butter Bar. There's no better way to pamper your skin after a long day.
2 oz solid lotion bar
Scented with lavender essential oils
Simple ingredients: shea butter, coconut oil, beeswax, lavender essential oil
Reusable black metal tin
Dive into a world of Lavender Essential Care with this gem from our Woman-Owned Skincare collection. This Moisturizing Lotion Bar is brimming with all-natural ingredients that your skin will love. It boasts a potent fusion of shea butter, beeswax, and coconut oil – the holy trinity of moisture. The Beeswax Skin Product locks in hydration while coconut oil lends its rejuvenating properties to the mix. Each application of this Coconut Oil Moisturizer leaves your skin feeling soft, supple, and utterly revitalized.
But the Lavender Lotion Bar isn't just about hydration. It's also a champion for those with frequent handwashing routines. The Hand Washer's Moisturizer is specifically formulated to combat the drying effects of soap and water, ensuring your hands stay nourished and protected throughout the day. Trust us; your skin will thank you.
This Lavender lotion bar for dry skin is a godsend for anyone seeking intense hydration without the fuss. With just one sweep of this lotion bar for hand hydration, your skin will drink up all the goodness it has to offer.
Handmade lotion bar in California, this moisturizing wonder packs a potent punch of nature's finest ingredients. Tagged as the best lotion bar for soft skin, it incorporates the richness of shea butter, beeswax, and coconut oil into one luxe product. Our skin softening products with beeswax are a true testament to the power of nature, and this lotion bar is no exception. From its soothing aroma to its hydrating properties, it is the epitome of skincare that works.
The Coconut oil based moisturizer in the bar deeply nourishes your skin, leaving it refreshed and radiant. Experience the velvety softness of a Shea Skin Balm and the revitalizing scent of a Lavender Hand Cream, all bundled into one convenient bar. Just one use, and you'll feel the difference in your skin's texture and appearance.
Indulge your senses, give your skin the treat it deserves, and fall in love with your skin again with our Lavender Lotion Bar. We're confident that it will be an unforgettable experience.