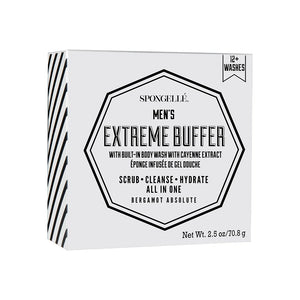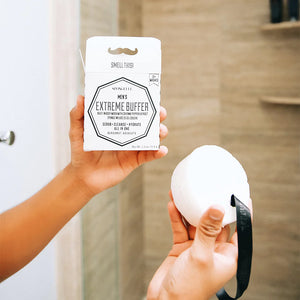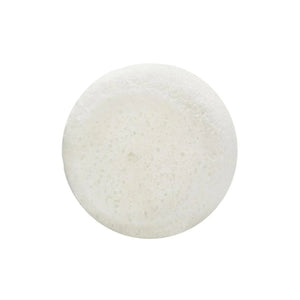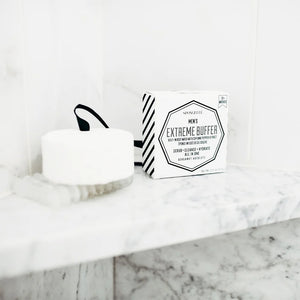 Men's Extreme Buffer, Bergamot Absolute
Introducing the Spongelle Men's Extreme Body Buffer Bergamot Absolute - the epitome of high-end men's grooming products and your ultimate ally in daily skincare. Crafted to perfection, this best body buffer for men infuses the sensual aroma of bergamot absolute with the soothing touch of an exfoliating bath sponge. With Spongelle's proprietary technology, each use is an aromatic journey, promising a refreshing experience reminiscent of bathing in the crisp, outdoor breeze.
Built-In Body Wash + Buffer
Multi-Function, Multi-Use, 12+ Uses
Gently Exfoliates and Locks in Moisture
Dermatologist tested Non-Toxic
But that's not where the magic ends. As our Men's Extreme Buffer Bergamot Absolute review confirms, this product packs an all-in-one men's cleansing treatment, making it an absolute must-have in every gentleman's grooming arsenal. It's the high quality scented body buffer you've been looking for, uniquely designed to exfoliate, hydrate, and rejuvenate. Enriched with cayenne pepper extract, this men's body wash initiates a stimulating cleanse that boosts circulation and awakens the senses.

Lastly, but importantly, our Spongelle men's extreme Bergamot Absolute is a convenient travel size body buffer for men. Whether you're headed to the gym or globe-trotting, this compact skincare solution will ensure you stay refreshed on-the-go. With its unique blend of vibrant bergamot, exotic cedarwood, and warm amber, our body buffer delivers an invigorating wash and keeps you smelling fantastic all day long. Go on, elevate your grooming routine with Spongelle Men's Extreme Body Buffer Bergamot Absolute - because you deserve nothing but the best!
Ever imagined a Bergamot scented body buffer that could transport you to a tranquil oasis right within your bathroom? The Spongelle Men's Extreme Body Buffer Bergamot Absolute does just that. Its body buffer with built-in body wash ensures you are left cleansed and moisturized with every single use. But there's more! It also boasts a time-released lather that gradually unfolds the captivating essence of juicy orange, tart lemon, and green lilac topped off with base notes of cedarwood and amber. This is men's skincare with cedarwood and amber taken to a whole new level!

As our satisfied customers will tell you in any Spongelle Bergamot Absolute review, the unique blend of ingredients doesn't just smell divine; it also assures an invigorating wash every time. And here's the kicker - it's a dermatologist tested body buffer, ensuring it's gentle enough for all skin types. Enhanced with a body buffer with cayenne pepper extract, it promotes improved circulation and delivers a stimulating clean that leaves you feeling fresh and revitalized all day.

Not only does our Bergamot scented body buffer promise a luxurious bathing experience, but it also doubles as one of the finest luxury men's grooming gifts. With its chic packaging and multiple uses, it makes for the perfect present for any man who appreciates a high-quality skincare routine. Each buffer offers a minimum of 12+ washes, making it a men's bath sponge with multiple uses and ensuring you get the most out of every purchase.

At Digibuddha, we believe in the power of safe and sustainable skincare. Our Spongelle Men's Extreme Body Buffer is a testament to this belief, offering a non-toxic men's cleansing treatment that's paraben-free, vegan-friendly, cruelty-free, and recyclable. As a brand committed to caring for our customers and our environment, we ensure you can indulge in your skincare rituals guilt-free. So why wait? Experience the luxurious blend of nature, science, and unparalleled fragrance with our Spongelle Men's Extreme Body Buffer Bergamot Absolute. Your skin will thank you!