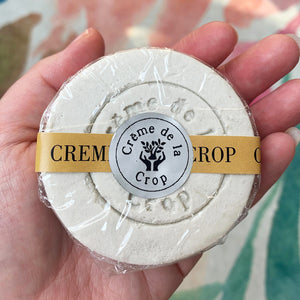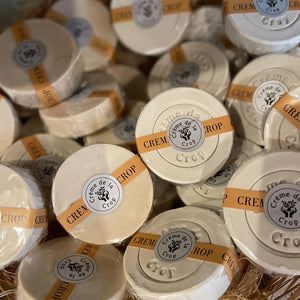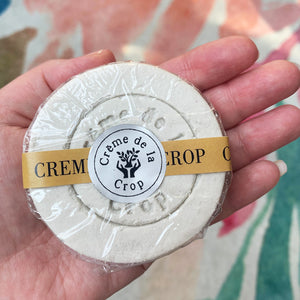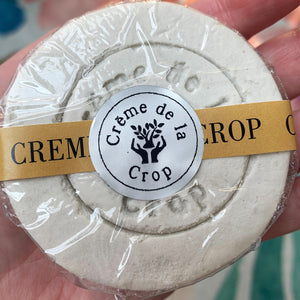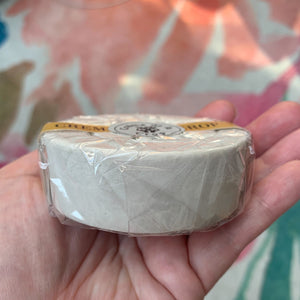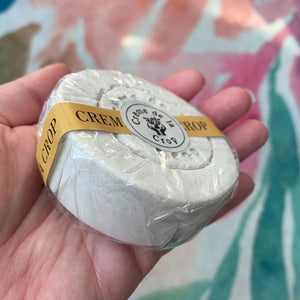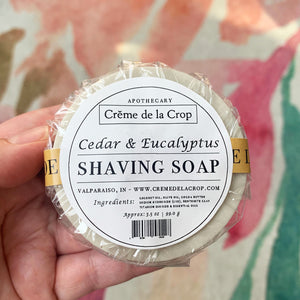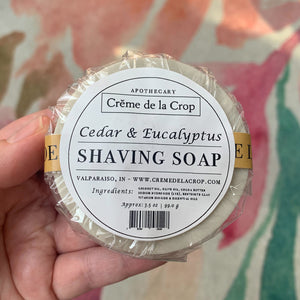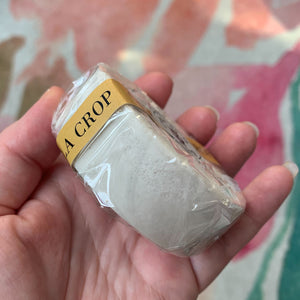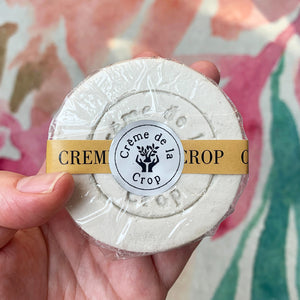 Men's Shaving Soap - Cedar & Eucalyptus
Infused with the enriching power of essential oils, this men's shaving soap with essential oils has been thoughtfully curated to enhance your daily grooming rituals. Enjoy the invigorating freshness of cedar and eucalyptus each morning with this cedar and eucalyptus shaving soap by Creme de la Crop, designed to awaken your senses and prep you for the day ahead. It's not just a shaving soap - it's a grooming experience that prioritizes your skin's health and wellness.
moisturizes & hydrates during shaving

bentonite clay naturally draws out impurities

Ingredients: coconut oil, olive oil, cocoa butter, sodium hydroxide (lye), bentonite clay, titanium dioxide & essential oils
Knowing the struggles of finding the best shaving soap for sensitive skin, this men's shaving soap bar takes extra care to incorporate natural ingredients that are gentle yet effective. The natural ingredients shaving soap ensures a smooth, comfortable shave while leaving your skin feeling soft and moisturized. Because we understand the importance of hydration, our hydrating shaving soap for men takes it a step further with the hydrating properties of coconut oil, a key ingredient in this skincare line. It's the best skincare with coconut oil you'll find, promising you an unmatchable shave every time.

As a brand dedicated to offering the finest men's grooming products with natural ingredients, we've curated our products to be more than just functional - they're a treat for the senses too. Our cedar scented men's skincare and eucalyptus skincare products for men bring a touch of nature into your daily routine, enveloping you in refreshing and calming scents. 
This shaving soap with coconut oil and shaving soap with cocoa butter go beyond a regular shave by providing rich, moisturizing lather that softens the hair and nourishes the skin. Going the extra mile, this soap includes bentonite clay, a natural mineral that gently exfoliates and draws out impurities. This makes our shaving soap with bentonite clay a perfect pick for those wanting a clean and smooth shave without any harsh chemicals.

We believe in combining luxury with sustainability, which is why we curate high-quality men's shaving soap created with eco-friendly methods. Offering more than just a close shave, this eco-friendly shaving soap for men delivers a skincare experience that is both lavish and environmentally conscious. At Digibuddha, we're proud to contribute to a greener planet while ensuring you look your very best.

By harnessing the power of nature's most potent botanicals, we've curated an impressive lineup of eco-friendly skincare for men. From our cedar and eucalyptus shaving soaps to our cocoa butter-infused skincare products, every item we offer is a celebration of nature's finest ingredients, specially curated for your skin.

Rounding out our offering are our high-end men's grooming essentials. This premium men's skincare with essential oils provides a touch of luxury for the modern man. Our clay infused men's grooming products combine the deep-cleansing properties of bentonite clay with a range of essential oils, resulting in a grooming experience that leaves you feeling refreshed and revitalized. Discover the Digibuddha difference today, where grooming meets wellness.