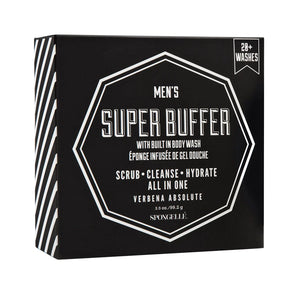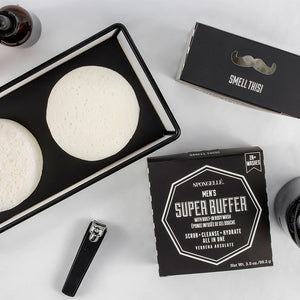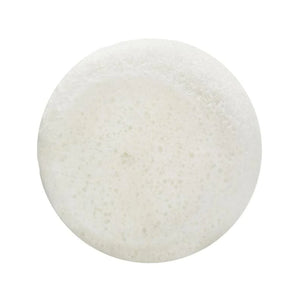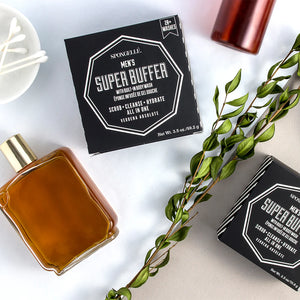 Men's Super Buffer, Verbena Absolute
Welcome to the captivating world of the Spongelle Men's Super Body Buffer Verbena Absolute, the perfect fusion of superior skincare and enchanting fragrance. From this Men's Super Buffer with Verbena scent, expect an alluring mix of fresh, citrusy verbena harmonized with tantalizing rum, juicy apple, and warm sandalwood. This carefully crafted body buffer for deep exfoliation offers an invigorating cleansing experience that gently sweeps away dead skin cells, revealing refreshed, smooth skin beneath.
Built-In Body Wash + Buffer
Multi-Function, Multi-Use, 20+ Uses
Gently Exfoliates and Locks in Moisture
Dermatologist tested Non-Toxic
Our Spongelle men's super Verbena Absolute is more than just a simple buffer. It's an all-in-one men's cleansing treatment enriched with a unique blend of yuzu, edelweiss, and vetiver extracts. This body buffer enriched with yuzu, edelweiss, and vetiver extracts provides a stimulating clean, amplified hydration, and improved circulation for up to 20+ washes. Enjoy the luxurious lather that gradually releases a captivating fragrance for an exceptional bathing experience – truly the best body buffer with time-released lather.

Convenience meets luxury with our Spongelle Men's Super Body Buffer Verbena Absolute, one of the most praised travel size men's bath products. Its compact design makes it ideal for the gym, travel, or quick touch-ups before a big meeting. Don't just take our word for it; our Spongelle Verbena Absolute review stands testament to its superior performance and irresistible scent. Experience the perfect blend of intensive skincare and intoxicating aroma with our Spongelle Men's Super Body Buffer Verbena Absolute. You're one wash away from turning your ordinary bathing routine into an extraordinary sensorial journey!

Our Men's Super Buffer Verbena Absolute review speaks volumes about its impressive performance and the delightful scent it brings to your grooming routine. This dermatologist-tested body buffer guarantees it's suitable for all skin types, gently exfoliating the skin without causing any harm. It's a non-toxic men's body buffer, ensuring it's free from any harsh chemicals that could potentially damage your skin. This paraben-free body buffer for men is a testament to our commitment to providing safe and high-quality skincare solutions.

Embedded within our buffer is a built-in body wash that gradually releases a creamy lather, which cleanses, moisturizes, and scents the skin in one simple step. This body buffer with built-in body wash is not only convenient but also makes every bath an indulgent experience, perfect for those who enjoy the finer things in life. It's one of our luxury men's grooming products that embodies the essence of premium skincare.

Transform your bath experience with our high-end men's bath sponge, crafted with meticulous attention to detail. This cruelty-free men's grooming product shows our dedication to promoting ethical and responsible skincare practices. Complete with a convenient hanging rope, our men's bath sponge with hanging rope ensures easy storage and quick drying, prolonging the life of your buffer.

Our Spongelle Men's Super Body Buffer Verbena Absolute is a vegan friendly men's body wash, affirming our dedication to creating skincare solutions that are kind to our planet. Not only will it provide an invigorating cleanse and deep exfoliation, but it will also give you peace of mind knowing that your skincare choice is environmentally responsible. Elevate your grooming routine with our Spongelle Men's Super Body Buffer Verbena Absolute, where luxury meets sustainability.