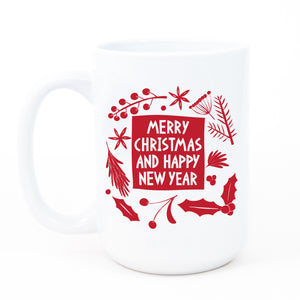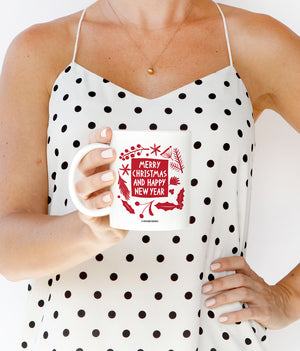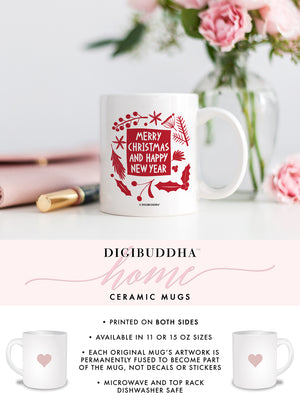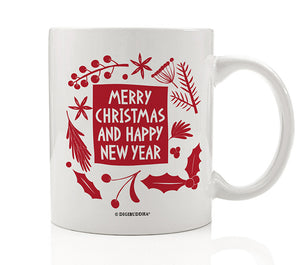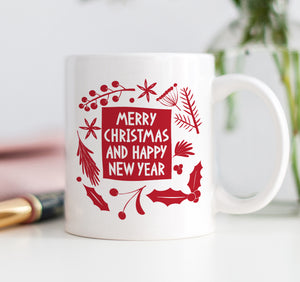 Merry Christmas and Happy New Year Coffee Mug
Welcome to the most festive season of the year with our Merry Christmas and Happy New Year coffee mug. It's time to turn up the holiday spirit and let the jingle bells rock! This mug is the perfect choice for those looking for a seasonal mug that matches the cheer of the season. It's not just a holiday mug; it's a fantastic way to usher in the festive vibes with its unique Christmas mug design. If you're in search of the best Christmas mug gift ideas, then look no further! This mug offers the holiday spirit in the palm of your hands.

• Bold design: With its vibrant winter red design, this mug makes a bold statement.
• Stunning artwork: The mistletoe and festive lettering are more than just a Christmas mug design; they're a celebration of the season.
• High-quality material: The fine white ceramic provides a sturdy and elegant base for the artwork.
• Practical and safe: The mug is microwave & top rack dishwasher safe.
• Durable: Unlike other mugs, the design is permanently fused, not just decals or stickers.
As you sip your favorite brew from this merry santa coffee mug, you'll feel the warmth of the holiday spirit. This seasonal mug is designed to stand out, so every time you use it, you're sure to hear the whisper of 'tis the season to be jolly. The design is not a mere decal or sticker that peels off after a few uses. No, this is a permanent, high-quality design fused into the fine ceramic. So, you can enjoy the festive design year after year.
The Merry Christmas and Happy New Year coffee mug is not just for personal use. It makes a wonderful gift. If you're scratching your head over Christmas or New Years mug gift ideas, then this mug is your solution. Gift it to your friends, family, or colleagues and share the holiday cheer. You're not just gifting a mug; you're gifting a bundle of joy that encapsulates the holiday spirit.
So, why wait? Get your hands on this holiday mug and ring in the season of joy. After all, there's nothing like a merry santa coffee mug to brighten up the holidays. It's more than just a seasonal mug; it's your companion in celebrating the joyous spirit of Christmas and New Year.