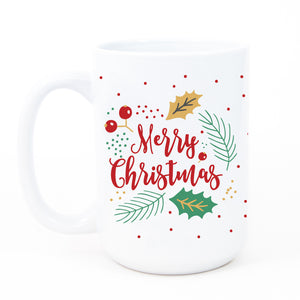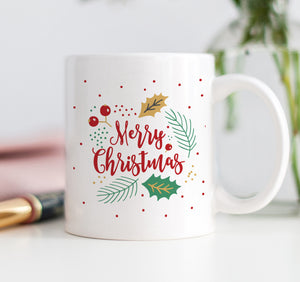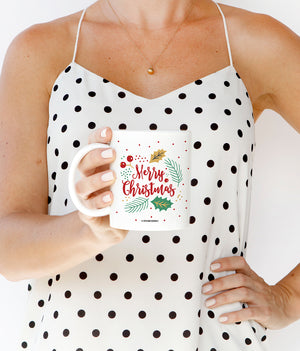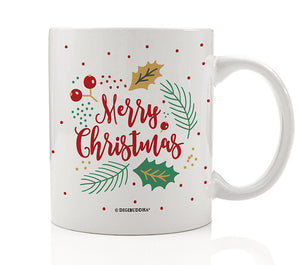 Merry Christmas Holly Coffee Mug
Embrace the charm of the season with our Merry Christmas holly coffee mug. With a modern design inspired by the classic Christmas evergreen mug, this is the perfect companion to your favorite hot beverage during the Christmas mug season. Delight in the Christmas coffee mugs tradition with our vibrant red, white, and green designs - the perfect holiday spirit in a mug!

• Fine white ceramic: Our mugs are crafted from fine white ceramic, ensuring a durable and high-quality product.
• Glossy glaze finish: The flawless glossy glaze finish gives the mug a sophisticated and stylish look.
• Permanent art: Each original custom-made mug features art that is permanently fused, so the design becomes part of the mug, not just a decal or sticker.
• Dishwasher and microwave safe: These mugs are top-rack dishwasher safe and can be used in the microwave, providing convenient, hassle-free usage.
• Packaged securely: Each mug is securely packaged and shipped to protect from damage, ensuring it arrives in perfect condition at your doorstep.
Bring the joy of the holidays right into your hands with this Merry Christmas holly coffee mug. Its vibrant design, inspired by the winter Christmas evergreen mug, will fill your Christmas mug morning routine with cheer.
Perfect for the Christmas coffee mugs lover, this is more than just a tea mugs - it's a daily dose of holiday spirit. As a great gift for friends, this coffee mug is an invitation to sit down, sip, and share stories of yuletide.
Filled with love, laughter, and a bit of caffeine, these coffee mug gift ideas are memories in the making. As a holiday mug, it brings the warmth of the season into the palm of your hand.
More than a hot chocolate mug, this Christmas holly coffee mug adds a festive touch to your home or makes a wonderful gift. Spread the joy with these perfect Christmas mug gift ideas.