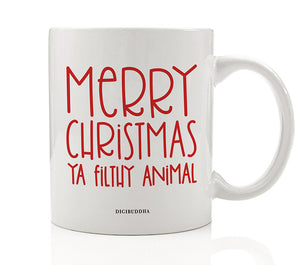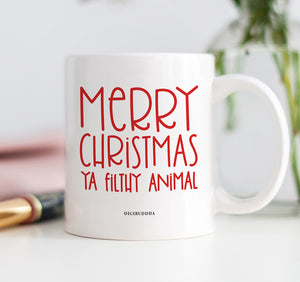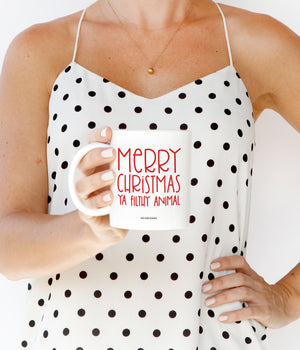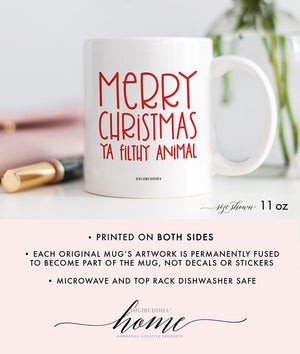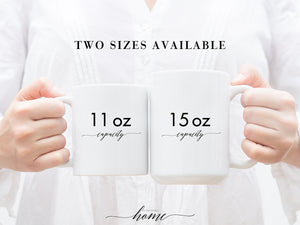 Merry Christmas Ya Filthy Animal Coffee Mug
Step into the holiday spirit and tickle your funny bone with our Merry Christmas Ya Filthy Animal mug. A classic Christmas movie mug, it's the perfect blend of holiday cheer and good-natured humor. If you're racking your brain for unique Christmas mug ideas, this witty cup is sure to bring a smile. For fans of funny coffee mugs or those on the lookout for a novel holiday mug, this vibrant design is the perfect conversation starter. This ceramic Christmas mug combines fun, quality, and holiday spirit, all in one.

• High-Quality Print: This Merry Christmas Ya Filthy Animal mug features a permanently fused design, ensuring the artwork is part of the mug and not mere decals or stickers.
• Double-Sided Design: With the playful phrase printed on both sides, this mug will brighten up your day, no matter which way you look at it.
• Dishwasher and Microwave Safe: This mug is as tough as it is fun—pop it in the microwave or the top rack of your dishwasher without a worry.
• Perfect Size: Available in 11 oz and 15 oz sizes, so you can enjoy your coffee the way you like it.
• Safely Packaged: Shipped securely to protect your new favorite mug from any damage.
Add a fun touch to your holiday mornings with this Merry Christmas Ya Filthy Animal mug. Be it for the lovers of funny Christmas coffee mugs or for those simply looking for a unique way to add to their holiday mugs collection, this cup is sure to impress. Christmas is all about warmth, joy, and a dash of humor, and our mug embodies all these aspects perfectly.
Whether you're snuggling up on the couch with a classic Christmas movie or hosting an epic holiday party, this ceramic Christmas mug is your perfect partner. The charm of this christmas movie mug is simply irresistible, and it's bound to add a sprinkle of cheeky humor to your everyday life. For those who appreciate cool coffee mugs, this mug's combination of functionality, quality, and humor is hard to match.
So, what are you waiting for? Let your coffee mug do the talking this holiday season. Show off your fun-loving spirit with our Merry Christmas Ya Filthy Animal mug. After all, there's nothing like a good laugh to kickstart your day