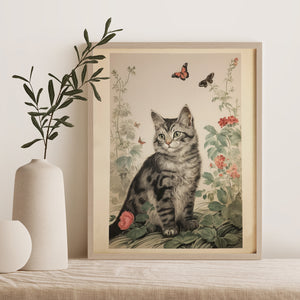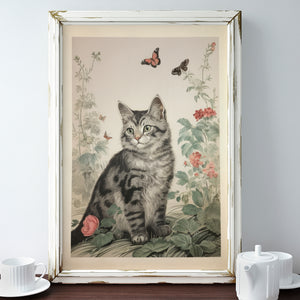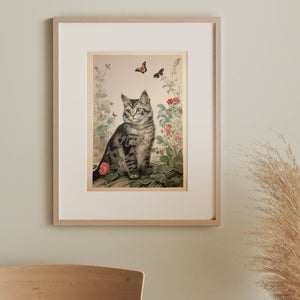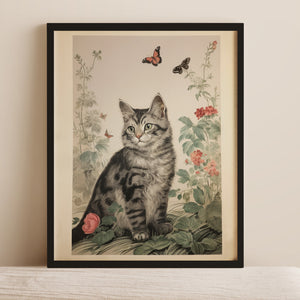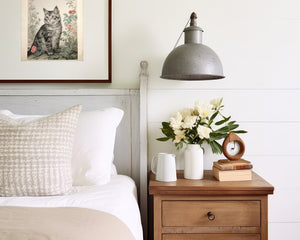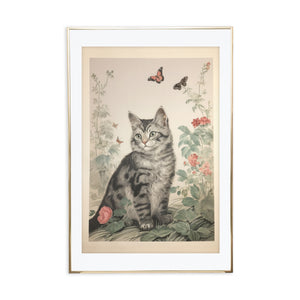 Misty Petalwhisker Vintage Cat Art Print
Dive into the mesmerizing world of our Misty Petalwhisker print, an enchanting piece that captures the essence of a bygone era. This vintage cat art print showcases a fusion of vintage cat design art and whimsical charm, making it a must-have for anyone looking to add a touch of nostalgia to their living space.

Available in 8x10"' or 11x17" size
Printed in full color on archival matte art paper
Shipped in heavy duty sturdy mailer for safe shipping
Print only (frame not included)
Our antique cat lithograph reproduction is not just any piece of art. It's a celebration of the quirky and elegant, evident in every stroke of the quirky cat print. Infused with delicate vintage cat botanical print details, it's a blend of feline grace and floral elegance, making this cat ephemera floral art an instant conversation starter.
Perfect for transforming any room, it doubles as vintage cat wall decor, ensuring your space radiates a timeless allure.
Whether you're an art aficionado or just starting your collection, this masterpiece stands out. Ideal for both modern and traditional settings, it's a dream come true for cat lovers wall decor enthusiasts.
Choose our vintage cat lithograph and let your walls tell a story of elegance, quirkiness, and vintage charm. At Digibuddha, we believe that every wall deserves a story and every home deserves a dash of artistic whimsy.
Dive deeper into the nuances of our collection and discover the quirky vintage cat artwork that has been stealing hearts left and right. The Misty Petalwhisker cat print, in particular, is more than just a design; it's a journey back in time. This artwork, adorned with a vintage cat flower design, is an ode to the past, evoking memories of yesteryears with every glance.
We meticulously crafted the botanical cat ephemera print to celebrate the fusion of cat elegance with nature's serenity. The vintage style cat print encapsulates our love for timeless aesthetics, and the antique kitty design adds an extra layer of vintage charm to it.
Every brushstroke, every detail, is intentional, making this antique cat floral print a testament to our commitment to quality and artistry.
But our collection isn't just about the past; it's also about infusing quirky, playful elements into classic designs. Our quirky kitty wall decor seamlessly blends playful charm with age-old elegance, ensuring that there's something for everyone.
And if you're a lover of unique designs that tell a tale, our quirky cat lithograph reproduction will be your new favorite. It's an artwork where the playfulness of a vintage cat with flowers meets the classic beauty of an antique, resulting in a masterpiece that's truly one-of-a-kind.
So, whether you're a seasoned art collector or someone just starting to explore, our collection promises a visual treat that resonates with both the heart and the home. 
Every piece in the Digibuddha collection carries a story, a sentiment, and a purpose. Among the gems is our antique design cat print, a marvel meticulously crafted for those with an eye for classic beauty.
This print, rich in detail and bursting with charm, instantly transports you to a world where art and nostalgia blend seamlessly. For the passionate souls who breathe and live the feline magic, our collection is the perfect art for cat enthusiasts. It's a harmonious merge of classic charm with contemporary flair.
There's a special allure in our vintage-esque wall print, which captures the spirit of a time long past yet evergreen in our hearts. Its intricate details are reminiscent of the golden age of artistry, making it a perfect companion to the ephemera floral cat artwork that graces our selection.
Each piece, like the vintage botanical kitty print, speaks volumes of the delicate dance between nature and felines. The cat and flower lithograph especially encapsulates this bond, painting a vivid picture of serenity, beauty, and mutual admiration.