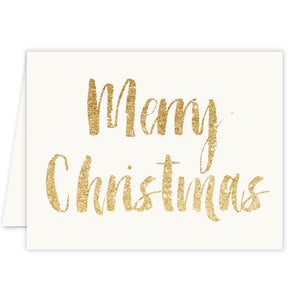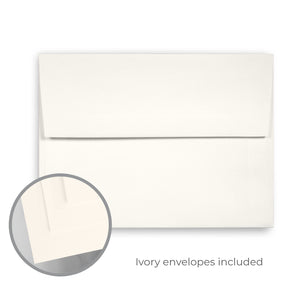 Modern Gold Merry Christmas Cards
Boxed set of 10 Folded Cards with Envelopes

Dimensions: 

Large 5x7

 inches

Printing: 

Flat Printing on 110# Finch Eggshell Paper

Card Type: 

A7 Folded Card

Envelopes: 

Ivory square flap
Illuminate your holiday sentiments with our gold Merry Christmas cards, perfect for those who appreciate a touch of elegance in their season's greetings. Our chic Christmas cards blend modern design with timeless golden glamour, ensuring your heartfelt messages stadn out in the mailboxes of your loved ones.
Bold Impact: Bright, lush colors professionally printed for a standout impression.
Customizable: Blank inside, providing a canvas for your personal heartfelt messages.
Quality Assured: Thick card stock ensures durability and a premium feel.
Envelopes: Luxe ivory envelopes.
Nothing quite matches the joy of penning a custom note in a Christmas greeting card. It's a warm, personal way to express gratitude, reconnect with loved ones, and spread cheer during the festive season. It's not just about saying "Merry Christmas"; it's about sharing a piece of your heart, showing the recipients - be they family, friends, or helpful neighbors - that they're cherished and appreciated.
So, why choose our Gold Merry Christmas Cards? Because you're not just sending a card; you're sending a keepsake. These unique Christmas cards, with their golden look and minimalist design, become treasured mementos that recipients adore displaying year after year. Whether you're reconnecting with old friends, sending gratitude to your child's favorite teacher, or simply telling your family you love them, these best Christmas cards capture the season's spirit perfectly. And hey, who doesn't enjoy a little extra sparkle during the holidays?
Choose print Christmas cards from Digibuddha, and you're choosing quality, elegance, and a personal touch that digital messages just can't replicate. After all, in a season all about giving, what's a better gift than a piece of your heart