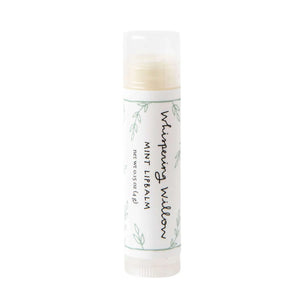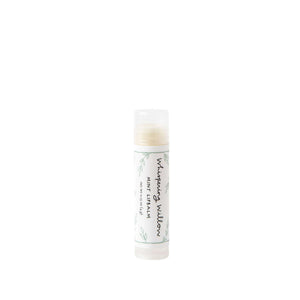 Introducing our favorite Mint Lip Balm from Whispering Willow for dry lips, the perfect solution for your lip care needs. This organic mint lip balm is crafted with utmost care, using natural ingredients that provide lasting hydration and protection. Our commitment to using organic ingredients ensures that you're giving your lips the best treatment possible.
Apply nightly before bed and then throughout the day as needed

Ingredients: Organic beeswax, Organic Coconut Oil, Organic Flavoring Oil, Organic Honey
Experience the refreshing sensation of this mint lip balm with beeswax. The cooling effect of mint leaves your lips feeling awakened and rejuvenated, while the nourishing properties of beeswax help prevent dryness. Infused with organic coconut oil, this lip balm delivers deep hydration, leaving your lips soft, smooth, and moisturized.

This natural beeswax lip balm is designed to provide holistic lip care. Formulated with a blend of organic ingredients, including coconut oil, these lip balms offer gentle and effective nourishment for your lips. Whether you're dealing with dry, cracked lips or simply seeking everyday lip care, our natural lip balms are a must-have.

Say goodbye to dry, cracked lips with our honey-infused lip balms. Honey has been treasured for its moisturizing properties, and we've harnessed its benefits to create a lip balm that helps restore and protect your lips. Our lip balms, made with organic ingredients, including natural beeswax and coconut oil, offer the ultimate lip care for dry, cracked lips.

Experience the difference of our organic lip care products. Our mint lip balm, along with our range of natural beeswax lip balms, provides a soothing and hydrating experience. Infused with the goodness of coconut oil and other nourishing ingredients, our lip balms are the perfect remedy for dry, cracked lips. Treat your lips to the care they deserve with our collection of high-quality lip balms.