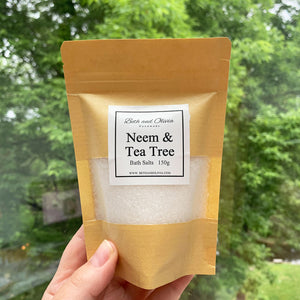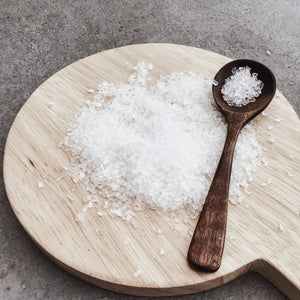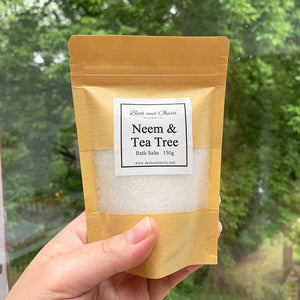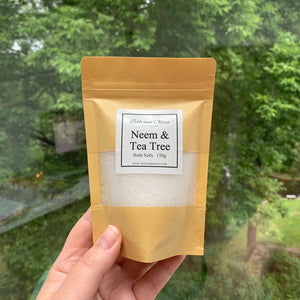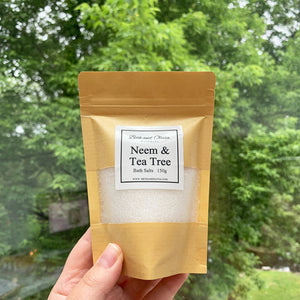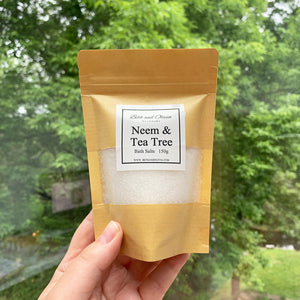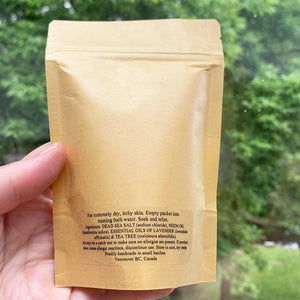 Neem & Tea Tree Bath Salts
Pamper yourself with Beth and Olivia's Neem and Tea Tree bath salts, a luxurious addition to your self-care routine. Dive into a bath filled with these exquisite salts, a perfect blend of Neem and Tea Tree oil for bath time. Let the intoxicating aroma fill your senses as you bask in the warm waters, offering a delightful escape from everyday stresses. Ideal for unwinding, our bath salts also act as a natural remedy for headaches, relieving tension and promoting relaxation.
Single use, 150g size
Ingredients: Dead Sea Salt, Neem Oil, Essential Oils of Lavender & Tea Tree Oil
Did you know that our bath salts for congestion are more than just a treat for your senses? That's right! If you're suffering from sinus congestion, a bath with our Neem and Tea Tree bath salts can offer relief. Tea tree oil for bath use has been known for its therapeutic properties, assisting in clearing blocked sinuses and helping you breathe easier. Bath products for congestion are an essential in every home, and Beth and Olivia bath salts are a must-have.

Additionally, these bath salts are perfect for cold and flu season. Just like a warm beverage can soothe a sore throat, a warm bath with our headache relief bath salts can work wonders. Providing an aromatherapeutic experience, these sinus relief bath products help to open up the sinuses and decrease discomfort. Let these bath salts be your first line of defence at the onset of cold or flu symptoms. The healing and rejuvenating qualities of Neem and Tea Tree, coupled with the detoxifying Dead Sea salts, transform your bath into a healing oasis.
The magic behind our Neem and Tea Tree bath salts begins with the Dead Sea bath salts. Sourced directly from the Dead Sea, these salts are rich in beneficial minerals. When dissolved in warm water, they help to soothe tired muscles, improve skin hydration, and promote overall relaxation. Combine these benefits with the therapeutic effects of Neem and Tea Tree, and you have the perfect recipe for a soothing bath experience.

A cornerstone of our products is the use of essential oils. Our essential oils bath salts harness the power of these concentrated plant extracts to provide a range of health benefits. Notably, our Lavender and Tea Tree bath salts combine the calming effects of lavender with the invigorating properties of tea tree oil. The result is a delightful blend that not only offers sinus relief but also promotes relaxation and well-being.

There's nothing like a relaxing bath after a long day, and our relaxing bath salts are designed to provide just that. The essential oil bath soak infused in these salts envelopes you in a cloud of tranquility, providing the perfect end to your day. As one of our most popular aromatherapy products for bath time, this bath soak provides an instant stress relief, turning your bathroom into a personal spa.

Bathing with our Dead Sea salt soak is like taking a dip in the therapeutic waters of the Dead Sea itself. Part of our luxury bath products range, this soak delivers a high-end spa experience right in the comfort of your own home. It's more than just a bath soak for stress relief; it's a ticket to your personal oasis of calm, tranquility, and rejuvenation.