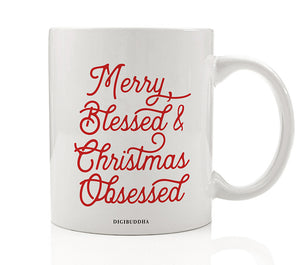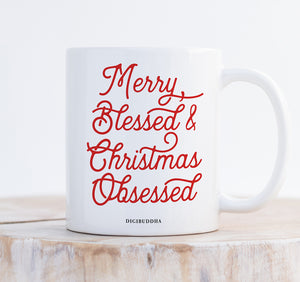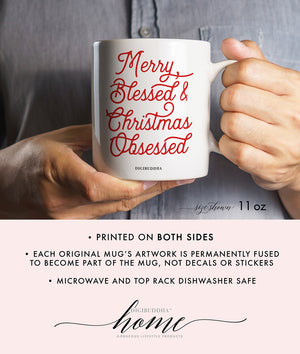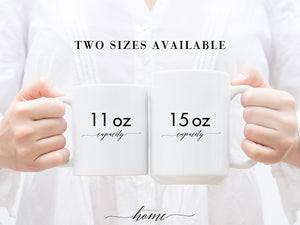 Obsessed with Christmas Coffee Mug
Welcome to the magical season, where your coffee tastes even more delightful in our custom-made Merry Blessed & Christmas Obsessed mug. This obsessed with Christmas mug is not just a piece of ceramic - it's an experience. If you're looking for Christmas mug ideas, then this is your ultimate stop. This holiday mug lets you enjoy your warm beverages in style while also making a festive statement. Your Christmas coffee mug collection just got a stellar upgrade, as this merry masterpiece adds an extra dash of holiday spirit to your morning routine. The stunning ceramic Christmas mug beautifully merges functionality with festivity.

• Flawless Design: This obsessed with Christmas mug features "Merry Blessed & Christmas Obsessed" written in a red, flowy, festive script, igniting holiday cheer with each sip.
• Quality Craftsmanship: Each original custom-made mug design is permanently fused, making the words part of the mug, not mere decals or stickers.
• Double-Sided Artwork: Our beautiful Christmas sentiment is printed on both sides for maximum impact.
• Microwave and Dishwasher Safe: Easily heat your drink in the microwave and clean it up in the top rack of the dishwasher without worrying about fading or peeling.
• Two Convenient Sizes: Available in both 11 oz and 15 oz options to suit your caffeine requirements.
When you add this obsessed with Christmas mug to your kitchenware, you're not only enhancing your holiday mugs collection but also injecting a little more joy into the holiday season. It's all about the small things in life, and our beautifully designed mug provides a daily reminder to find joy in every moment of the festive season.
We're not just creators; we're users too! Every morning, we enjoy our favorite brews in these cool coffee mugs, feeling the warmth and charm of the holiday season with each sip. We invite you to join our merry band of Christmas lovers who appreciate the blend of aesthetics, quality, and a touch of holiday magic that our Christmas coffee mugs bring.
There's something incredibly comforting about cradling a warm mug in your hands, the aroma of coffee mingling with the crisp winter air. It's the quintessential holiday experience, elevated by our unique Merry Blessed & Christmas Obsessed mug. Whether you're a self-proclaimed Christmas fanatic or looking for Christmas mug ideas to gift, this ceramic Christmas mug makes the holiday season even more enchanting. So why wait? Embrace being stressed, blessed, and Christmas obsessed with this beautifully crafted piece of holiday charm.